Okinawa referendum rejects relocation for US military base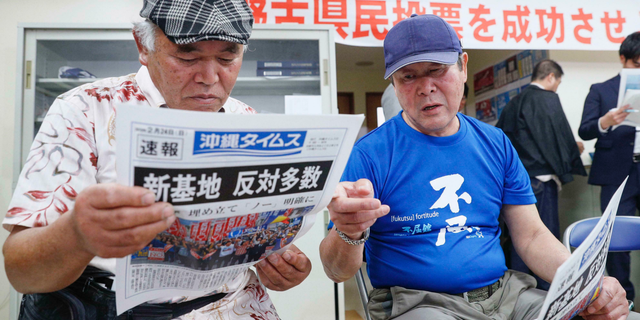 TOKYO – The residents of Japan's southwestern island region of Okinawa have rejected a relocation plan for a U.S. military base that was put to a referendum, dealing a blow to a bilateral security deal stalled for years.
The results of Sunday's vote showed 72 percent opposed the plan for a Marines air base being built on a landfill in coastal Henoko. Support for the relocation plan totaled 19 percent.
The referendum is not legally binding but underlines Okinawans' sentiment on the relocation plan.
Henoko is to replace a base in Futenma that is in a more residential area and is criticized as noisy and dangerous.
Okinawa Gov. Denny Tamaki said Monday the results must be respected.
Prime Minister Shinzo Abe reiterated the government view that the Henoko plan won't be changed.