Officials: 29 Killed in Suicide Bombing at Iraq Mosque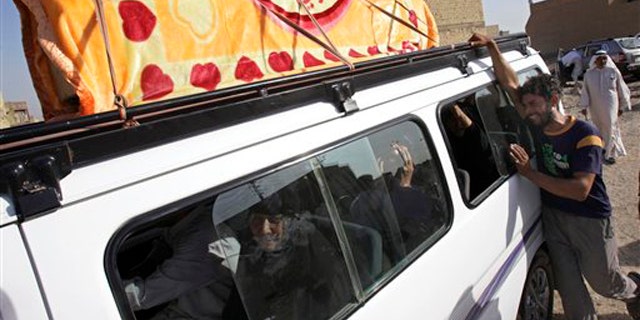 BAGHDAD – Weeping relatives and friends are holding funeral processions for worshippers killed in a suicide bombing inside the Iraqi capital's largest Sunni mosque.
One of the funerals was for a father and his 5-year-old son.
Wrapped with blankets, victims' caskets were carried on minibuses through Baghdad's streets Monday while women wailed and beat their chests in grief.
The suicide bomber blew himself up inside Baghdad's largest Sunni mosque Sunday night, killing 29 people during prayers, a shocking strike on a place of worship similar to the one that brought Iraq to the brink of civil war five years ago.
Iraqi security officials said parliament lawmaker Khalid al-Fahdawi, a Sunni, was among the dead in the 9:40 p.m Sunday strike.
Maj. Gen. Qassim al-Moussawi, a spokesman for Baghdad's military operations command, confirmed the attack happened inside the Um al-Qura mosque during prayers in the western Baghdad neighborhood of Al-Jamiaah. The blue-domed building is the largest Sunni mosque in Baghdad.
Two security officials and medics at two Baghdad hospitals put the casualty toll at 29 dead and 38 wounded. All spoke on condition of anonymity because they were not authorized to release the information.
Al-Moussawi put the death toll at only six and said there was no significant damage to the mosque. Conflicting death tolls are common immediately after attacks in Iraq.
"I heard something like a very severe wind storm, with smoke and darkness, and shots by the guards," said a shaken Mohammad Mustafa, who was inside the mosque and was hit in the hand by shrapnel.
"How could this occur?" he said. "Is Al Qaeda able to fulfill their act against worshippers? How did this breach happen?"
That the bomber detonated his explosives vest inside the mosque is particularly alarming, and it is reminiscent of a 2006 attack on a Shiite shrine in the Sunni city of Samarra that fueled widespread sectarian violence and nearly ignited a nationwide civil war. In that strike, Sunni militants planted bombs around the Samarra shrine, destroying its signature gold dome and badly damaging the rest of the structure.
No group immediately claimed responsibility for Sunday's bombing, but suicide attacks generally are a hallmark of Al Qaeda, which is dominated by Sunnis. Intelligence officials have speculated that Al Qaeda will do almost anything to re-ignite sectarian violence, but the group recently had focused on attacking Iraqi security forces and the government to prove how unstable Iraq remains.
The attack hit Sunnis who were praying in a special service during the holy Muslim month of Ramadan, which ends Tuesday. It demonstrates anew that security measures to protect Iraqis as U.S. forces prepare to leave remain riddled with gaps, and shows the extent to which militants want to extend violence even as the eight-year- U.S. presence winds down.
The mosque's security is provided by the government-supported Sunni Endowment, and al-Moussawi raised the possibility that the bomber had inside help.
"For sure there must have been someone inside the mosque who helped the bomber," al-Moussawi said. "It must have been someone who is protecting the mosque."