Officials: 1 feared dead in Canada roof collapse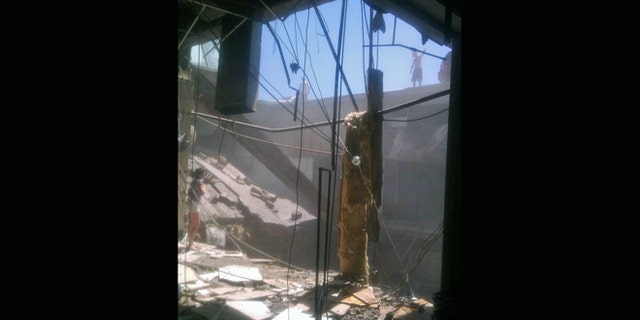 ELLIOT LAKE, Ontario – At least one person is feared dead and another trapped inside the rubble of a roof collapse at mall in northern Ontario, authorities said Sunday.
More than 24 hours after the collapse, rescue workers have been unable to reach the victims because the structure is too unstable. But images taken with the camera show a hand and foot in the dusty debris, said Ontario Provincial Police Insp. Percy Jollymore.
Fire officials heard tapping Sunday morning in another part of the rubble, but nothing had been heard for hours. They said they also tried to reach that person by drilling through a wall, but found the structure too unsafe to risk entering far enough inside.
"Some of our search members this morning heard a couple of taps," said Bill Needles, a spokesman from the Heavy Urban Search and Rescue team which travelled from Toronto. "They called for a quick silence on the site and there was a couple more taps. That was an indication to us that we were dealing with a rescue."
He said the operation is still a rescue mission and they're still hoping to find people alive.
"We're believing that they're still there and still alive," Needles said.
Police have a list of nine people missing since the collapse Saturday, but the names are being crossed off as members of the community account for their loved ones.
At least 22 people suffered minor injuries in the roof collapse Saturday afternoon at the Algo Centre Mall in Elliot Lake.
A special emergency crew is working to stabilize the scene, but authorities said the process could take another 12 hours.
A portion of the roof that serves as a parking area crumbled down two floors into an area near the food court, , leaving behind a gaping hole which was 12 meters (39 feet) by 24 meters (79 feet). It also downed hydro lines and triggered a gas leak.
Emergency officials quickly cleared out the mall and closed surrounding roads. Mayor Rick Hamilton declared a state of emergency.
Ontario Premier Dalton McGuinty said he was in touch with Elliot Lake's mayor and thanked emergency crews in the city for their efforts.
"As we anxiously wait to learn more about anyone thought to be missing in Elliot Lake, our thoughts and prayers are with their families, and also with those who have been injured and indeed with the entire community," McGuinty said in a statement.
Hope mingled with frustration in the close-knit community as residents waited for news.
"There's a fair amount missing," said Heather Richer, who owns a restaurant in the mall and was at work when the collapse took place. "I'm hoping everyone's found, but I'm giving up hope on whether they're going to find them alive."
Richer, who was particularly concerned about an acquaintance who was unaccounted for, described Saturday's thunderous collapse as a nightmare.
"It was almost like a little mini earthquake, like a big bang, and then gone," she said. "There was nothing there. Everything started to cave in, water was pouring out of the pipes."
Joe Drazil, a Zellers store employee, said several cars appeared to have fallen through the gaping hole near some escalators.
"You can see the roof with the cars hanging inside," he said. "Everybody was cleared from the whole mall. After that, there was numerous police and emergency vehicles coming from all over."
Shopper Jean-Marc Hayward was having coffee when the roof collapsed about 20 feet (6 meters) from him. He said a big hunk of concrete tumbled down through two floors and that it sounded like an explosion. "It was a big loud crash. It didn't just go down one floor it went down two floors," he said.
Hayward said a lottery terminal kiosk was located directly under the roof that caved in.
Hayward said he saw one man with a bloody face. Hayward, a dwarf who has trouble with his legs, said he couldn't run out.
"I was sucking in dust," he said.
Hayward and others have said the mall roof has leaked water for some time. There have long been buckets and tarps around the mall to collect leaking water, Hayward said.
"It's obvious there has been a lot of damage in the structure because of the water," Hayward said. "A couple of years ago they said they fixed all the leaks in the mall, but they didn't. You could tell every time it rained."
Stephan Powell of Toronto Fire Services could not confirm if rescue officials had been briefed about the water leaking issue.
The two-level mall in this northern Ontario community is approximately 200,000 square feet (18,580 sq. meters). It houses a grocery store, restaurants, a number of retail outlets, a hotel, and the constituency office for a member of the provincial parliament.
Rhonda Bear, a spokeswoman for the mall, which is run by Eastwood Mall Incorporated, referred all questions on the collapse and the condition of the mall to its lawyer, who could not immediately be reached for comment.
"All our concern right now is our prayers are with the families," Bear said.
____
Associated Press Writer Rob Gillies in Toronto contributed to this report.