Obama Welcomes Commitments From Egyptian Army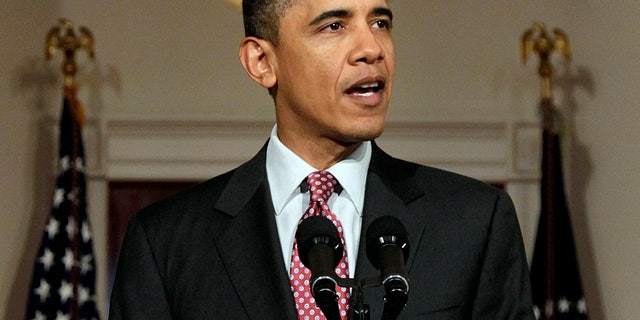 WASHINGTON -- President Barack Obama welcomed commitments Saturday from Egypt's new military rulers to eventually hand power to an elected civilian government and abide by a peace treaty with Israel.
A day after the resignation of Egypt's longtime leader Hosni Mubarak, Obama worked the phones with world leaders, reaffirming his support for the people of Egypt whose 18 days of protests led to Mubarak's ouster. Obama pledged U.S. assistance and financial support as Egypt moves toward free and fair elections, the White House said.
Egypt's military is now running the country following Mubarak's resignation. Its pledges Saturday to follow the international treaties the Mubarak government entered into were lauded not only in the U.S., but also in Israel, where leaders were concerned the turmoil in Egypt could threaten the peace accord between the two countries. Egypt's military strongly supports the peace deal, not in small part because it guarantees U.S. aid for the armed forces, currently running at $1.3 billion a year.
Meantime, Obama administration officials were still sorting through the frenetic final hours leading up to Mubarak's resignation Friday. U.S. officials had expected Mubarak to step down a day earlier, but were caught off guard when Mubarak instead issued a rambling statement on Egyptian state television in which he vowed to stay in office, but transfer authority to Vice President Omar Suleiman.
U.S. assumptions were based on contacts Thursday with several Egyptian officials who said Mubarak planned to make a dramatic statement later that day, and hinted that he would resign, a senior Obama administration official said. That included a call between Vice President Joe Biden and Suleiman that set high expectations for what Mubarak would say.
Obama was briefed on these developments as he traveled to Marquette, Mich., to deliver a speech on wireless Internet access. Anticipating substantial developments out of Cairo, aides decided to insert a brief statement at the top of Obama's remarks to place him squarely on the side of the crowds calling for Mubarak's ouster.
"What is absolutely clear is that we are witnessing history unfold," Obama said Thursday. "It's a moment of transformation that's taking place because the people of Egypt are calling for change."
Even as Obama spoke, there were signs that Mubarak might not resign. The administration official said guidance from Egyptian sources was not consistent, and there was confusion in Egypt's government.
The official spoke on the condition of anonymity in order to speak about internal administration matters.
Obama, traveling back to Washington on Air Force One, watched Mubarak announce that he was staying in office. Back at the White House, the president immediately convened a meeting of his national security team in the Oval Office; aides described the president as upset because Mubarak's words had the potential to stir violence.
At the same time, U.S. officials were receiving indications that Mubarak would head to his retreat in Sharm el-Sheikh. They read the move as a sign he might resign after all, leading the White House to issue a written statement from Obama late Thursday rather than have him speak before television cameras.
Friday was seen as a pivotal day. The official said Obama was preparing to have to speak on the matter in person, reacting either to more violence or Mubarak's resignation.
Obama pointedly decided not to call Mubarak. The two leaders had talked the previous week in what the official described as a difficult conversation. Obama felt there was little more he could say to influence Mubarak, and that the final push for his resignation had to come from within Egypt.
The protests in Cairo delivered quickly Friday. Aides briefed Obama at 8:30am. Margaret Scobey, the U.S. ambassador to Egypt, called Obama and told him the protests were overwhelming. And she confirmed reports that Mubarak was traveling to Sharm el-Sheikh, saying Suleiman and the Egyptian military would likely make statements later that day.
Scobey didn't say Mubarak had resigned but officials believed it was close.
Now, U.S. officials are closely monitoring other hot spots in the Middle East that could become the next focal points for protests after last month's popular uprising in Tunisia and Mubarak's resignation. Obama spoke to Saturday to King Abdullah II of Jordan, who has taken some steps toward reform following demonstrations in his country.
In conversations as well with British Prime Minister David Cameron and Turkish Prime Minister Recep Tayyip Erdogan, the White House said Obama stressed that he believed democracy would bring more, not less, stability to the region.