Obama meets with Orlando victims' families: 'Our hearts are broken'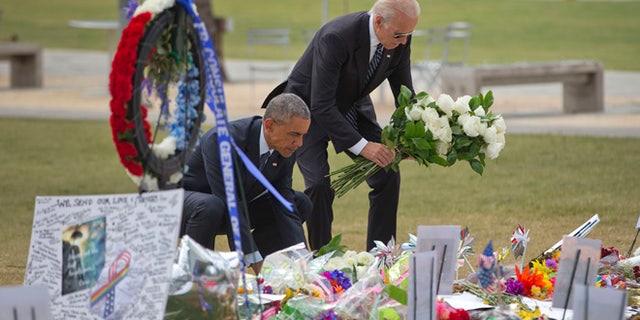 NEWYou can now listen to Fox News articles!
ORLANDO, Fla. (AP) – President Barack Obama said Thursday that a military campaign against terrorism abroad won't be enough to prevent "lone wolf" attacks like Sunday's nightclub shooting in Orlando, as he offered condolences and support to families of the victims.
"We're going to have to do more to prevent these kinds of events from occurring. It's going to take more than just our military," Obama said, an apparent reference to proposals for stricter gun-control laws. That was after he laid flowers at a makeshift memorial during an afternoon visit to the grieving city.
"We can't wipe away hatred and evil from every heart in the world. But we can stop some tragedies. We can save some lives," he said.
Obama praised the Senate for scheduling votes next Monday on gun control measures, although the legislation is likely to fail.
Obama traveled to Orlando as the city prepared to bury its first victims from the mass shooting. The president and Vice President Joe Biden spent hours meeting privately with survivors of the attack, victims' relatives and police officers who responded to the scene on Sunday, when 49 people were killed.
The president later told reporters the families talked to him about their loved ones and their grief over young lives taken.
"Our hearts are broken, too," Obama said he told them.
The low-key visit reflected the challenge for the president to find something meaningful to say about an attack that has stoked a wide mix of fears about terrorism, guns and violence against gays.
Obama's call for solidarity and empathy stood in contrast to the roiling political debate in Washington and the campaign trail that has sprung up since the attack. Arizona Sen. John McCain, a Republican and frequent Obama critic, accused the president of being "directly responsible" for the shooting because, he said, Obama had allowed the growth of the Islamic State group on his watch.
The gunman, Omar Mateen, had made calls during the attack saying he was an IS supporter. But CIA Director John Brennan said Thursday that the agency has found no connection between the gunman and any foreign terrorist organization.
The White House had no immediate response to McCain's comments.
Investigators were working to reconstruct the movements of the 20-year-old shooter before he opened fire at the Pulse dance club, including what his wife may have known about the attack. The Senate Homeland Security Committee's chairman sent a letter to Facebook asking for help with messages denouncing the "filthy ways of the west" left on Facebook accounts believed to be associated with Mateen before and during the attack.
Outside the Amway Center in downtown Orlando, where Obama met with families, hundreds gathered in punishing heat hoping to get a glimpse of the president — including some who knew victims of the shooting. Brittany Woodrough, 20, was still in shock as she recalled one of the victims, Jason Benjamin, whom she described as a close friend.
"Seeing President Obama here makes it real," Woodrough said.
White House spokesman Josh Earnest said part of Obama's goal was to show solidarity with gays and lesbians who were targeted in the attack. He called the visit a "solemn responsibility" that had weighed heavily on the president in the days since the attack.
"The president understands that he is a symbol of the country," Earnest said.
Obama's call for rejecting bigotry against gays and lesbians is complicated by the possibility that the gunman may have been wrestling with his own sexuality. The FBI has been looking into reports that Mateen frequented the nightspot and reached out to men on gay dating apps.
Florida Gov. Rick Scott, a Republican frequently at odds with Obama, greeted the president on the airport tarmac upon his arrival. Florida Sen. Marco Rubio, also a Republican, traveled with Obama from Washington, along with Rep. Corrine Brown, a Democrat who represents parts of the city. Biden and Sen. Bill Nelson, D-Fla., joined Obama on the tarmac.
The investigation and makeshift memorials in Orlando have seemed a world away from Washington and the presidential campaign, where initial horror has quickly given way to a vicious political brawl.
In Congress, the attack has spurred another bitter fight over gun control, exposing deep frustration among supporters of stricter gun laws that no level of mass casualty seems to be enough to force gun control opponents to reconsider.
Democratic Sen. Chris Murphy, whose state of Connecticut shouldered the killing of 20 children in Newtown in 2012, undertook a roughly 15-hour filibuster that lasted into the early hours of Thursday. As he yielded the floor, Murphy said GOP leaders had committed to hold votes on expanded gun background checks and a ban on gun sales to suspected terrorists.
Presumptive Republican nominee Donald Trump has expanded his call for temporarily barring foreign Muslims from entering the U.S. — even though the attacker was an American — and said the president "prioritizes" America's enemies over its people. Yet in an unexpected twist, Trump said he planned to meet with the National Rifle Association "about not allowing people on the terrorist watch list, or the no-fly list, to buy guns."
For Obama, the trip to Orlando was an unwelcome return to one of the most difficult roles a president must fulfill: trying to reassure the nation at times when few words seem capable of providing much comfort. Obama has lamented the frequency with which he's had to perform that duty, calling his inability to enact stricter gun laws the biggest frustration of his presidency.
Like us on Facebook
Follow us on Twitter & Instagram