'Nothing criminal' about 2 suspects in Novichok poisoning, Putin says
Russian President Vladimir Putin on Wednesday said that Moscow ID'd the two men Britain accused in the nerve-agent poisoning of a former Russian spy and his daughter, and he insisted that the two do not work for the military and urged them to come forward to talk to the media, the AP reported.
Britain said two men, whom they named last week as Alexander Petrov and Ruslan Boshirov, work for Russian military intelligence and are key suspects in the poisoning of Sergei Skripal, 66, and his 33-year-old daughter Yulia in March.
But Putin said on Wednesday that he denied the two men worked for the military. He said Russian officials "know who these people are" and called on the two men to talk to the media and "tell about themselves."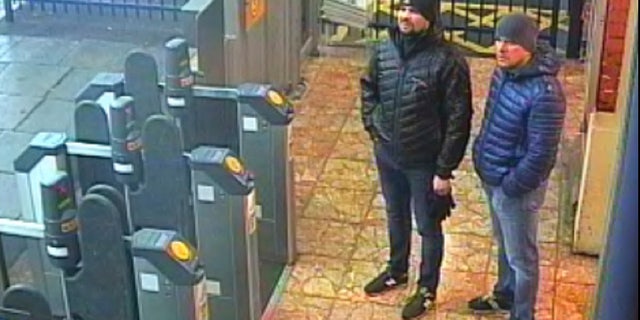 Skripal and his daughter were found unconscious March 4 on a bench in a shopping mall in Salisbury, about 90 miles west of London. The pair were released from the hospital two months later and moved to a private, secure location.
The nerve agent used to poison the Skripals was smuggled to Britain in a counterfeit Nina Ricci perfume bottle and applied to the front door of their house, according to Metropolitan Police.
Since the March attack, a British couple with no ties to Russia have also been poisoned by the substance in Salisbury.
Police believe Dawn Sturgess, 44, and her partner, 45-year-old Charlie Rowley, later found that same bottle, thus exposing them to the toxic nerve agent. Sturgess died more than a week later, while Rowley remains in critical but stable condition.
After the Skripals were poisoned, Britain and more than two dozen other countries expelled a total of 150 Russian spies working under diplomatic cover. Russia kicked out a similar number of those countries' envoys.
On Aug. 8, the U.S. announced it was imposing sanctions on Russia for using a chemical weapon in violation of international law, though the Kremlin repeatedly denied involvement. Following a 15-day congressional notification period, the sanctions took effect on or around Aug. 22, according to a statement from the State Department.
Fox News' Jennifer Earl and The Associated Press contributed to this report.
This is a developing story. Check back for updates.