Norway investigating refugee child abuse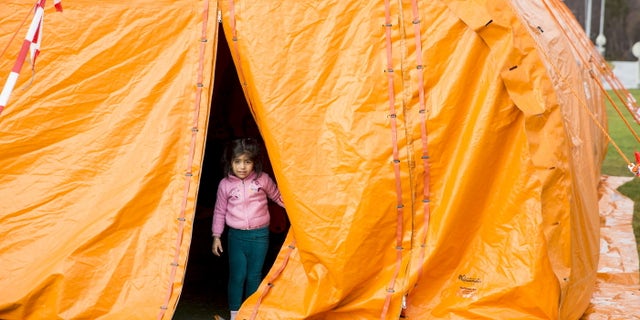 NEWYou can now listen to Fox News articles!
Norwegian police said Tuesday that they are investigating several cases of sex offenders allegedly abusing children at asylum-seekers' reception centers in the country. Swedish police, meanwhile, arrested more than a dozen people suspected of planning an attack on a refugee center.
In Norway, the abuse was reported to authorities during the autumn and winter, Axel Wilhelm Due from the National Criminal Investigation Services told The Associated Press without providing figures or details except to say that there were "several" cases.
The incidents included abuse by known sex offenders visiting the reception centers as well as residents of the centers, Due said, adding that police were reviewing every alleged case.
"We are looking very seriously at every individual case, and based on our information it's very likely that children living in reception centers in Norway have been and are being subjected to sexual abuse," he said. "But generally there is low criminal activity in and around the reception centers."
Due said that police wouldn't provide details about the alleged cases at this stage.
Last year, more than 31,000 people applied for asylum in Norway of whom 5,300 were unaccompanied minors.
In neighboring Sweden, police said they have arrested 14 men on suspicion of preparing attacks on an asylum-seekers' center near the capital, Stockholm.
Various weapons, but no firearms, were found in cars during the arrests on Monday evening in Nynashamn, 60 kilometers (35 miles) south of Stockholm, police spokesman Lars Bystrom said. He didn't identify the men, but Swedish Radio cited local police officer Lars Alvarsjo as saying they were Polish, and possibly members of right-wing groups.
The arrests come amid increasing opposition to migrants and reports of attacks against refugee centers in the Scandinavian country, which has been a top European destination with 163,000 arrivals last year. Previously known for its generous immigration policies welcoming refugees fleeing war and persecution, the Social Democratic led-government reversed course late last year tightening border controls and immigration regulations.
Meanwhile, The International Organization for Migration announced that 409 people have died this year trying to cross the Mediterranean Sea, and migrant crossings in the first six weeks of 2016 are running at nearly 10 times the rate of the same period last year.
IOM says 76,000 people have reached Europe by sea, nearly 2,000 per day, since Jan. 1.
More than three-fourths of the deaths have been on the short eastern Mediterranean route between Turkey and Greece - which traditionally has seen far fewer deaths than the much longer central Mediterranean route between Libya and Italy.
The IOM statement Tuesday comes a day after Turkey's coast guard said 27 migrants had died after their boat capsized in the Bay of Edremit while trying to reach the Greek island of Lesbos.
In Macedonia, authorities are reinforcing a barrier at the country's border with Greece that is designed to limit the number of migrants and refugees crossing into the country. Macedonian President Gjorge Ivanov visited the border town of Gevgelija on Tuesday to witness the start of the construction of the existing metal border fence's second layer.
The second part of the fence was being built five meters (16 feet) behind the first, an army official said.
Macedonia started building the fence in November when it toughened entry criteria for migrants and refugees traveling through Greece.