North Korea's launch of ballistic missile over Japan sends clear message to US, allies
North Korea on Tuesday-- in an act of defiance-- fired a midrange ballistic missile designed to carry a nuclear payload over Japan for the first time, sending a clear message to Washington and Seoul.
The distance and type of missile test seemed designed to show that North Korea can back up a threat to target the U.S. territory of Guam, if it chooses to do so, while also establishing a potentially dangerous precedent that could see future missiles flying over Japan.
Any new test worries Washington and its allies because it presumably puts the North a step closer toward its goal of an arsenal of nuclear missiles that can reliably target the United States. Tuesday's test, however, looks especially aggressive to Washington, Seoul and Tokyo.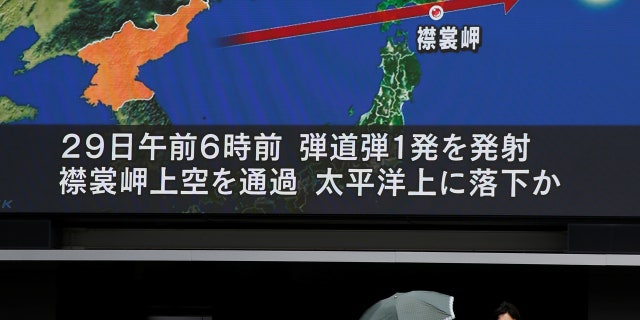 North Korea will no doubt be watching the world's reaction to see if it can use Tuesday's flight over Japan as a precedent for future launches. Japanese officials made the usual strongly worded condemnations of the launch. There were no immediate tweets from Trump.
"We will do our utmost to protect people's lives," Japanese Prime Minister Shinzo Abe said. "This reckless act of launching a missile that flies over our country is an unprecedented, serious and important threat."
A U.S. congressman visiting Seoul said Washington is now pressuring North Korea to abandon its nuclear ambitions by shutting down the impoverished country's access to hard currency, the lifeblood of its expensive weapons program.
The Pentagon told reporters that it was investigating the launch over Japan, adding: "North American Aerospace Defense Command determined the missile launch from North Korea did not pose a threat to North America." The U.S. Missile Defense Agency said the Japanese military did not attempt to intercept the missile.
South Korea's air force effectively fired back at North Korea's missile launch over Japan by conducting a live-fire drill involving powerful bombs, officials said early Tuesday.
Four F-15 fighters dropped eight MK-84 bombs that accurately hit targets at a military field near South Korea's eastern coast, Seoul's presidential spokesman Park Su-hyun said. Each bomb has an explosive yield of a ton, according to the country's air force.
South Korea's Joint Chiefs of Staff said the missile traveled around 1,677 miles and reached a maximum height of 341 miles as it traveled over the northern Japanese island of Hokkaido.
The North has conducted launches at an unusually fast pace this year -- 13 times, Seoul says -- and some analysts believe Pyongyang could have viable long-range nuclear missiles before the end of Trump's first term in early 2021.
Seoul says that while the North has twice before fired rockets it said were carrying satellites over Japan -- in 1998 and 2009 -- it has never before used a ballistic missile, which is unambiguously designed for military strikes.
Tuesday's missile landed nowhere near Guam, but firing a Hwasong-12 (Hwasong is Korean for Mars, or Fire Star) so soon after the Guam threat may be a way for the North to show it could follow through if it chose to do so. Guam is 2,200 miles away from North Korea, but South Korea's military said the North may have fired the most recent missile at a shorter range.
Another interesting aspect of this launch is that it was the first-ever reported from Sunan, which is home to Pyongyang's international airport. Some outside observers wondered if North Korea had launched a road-mobile missile from an airport runway -- something South Korea's military couldn't immediately determine.
Tuesday's launch comes days after the North fired what was assessed as three short-range ballistic missiles into the sea and a month after its second test of an intercontinental ballistic missile, which analysts say could reach deep into the U.S. mainland when perfected.
U.S. Secretary of State Rex Tillerson last week, said he welcomed the restraint Pyongyang showed by not firing any missiles in July.
"(North Korea) think that by exhibiting their capability, the path to dialogue will open," Masao Okonogi, professor emeritus at Japan's Keio University, told Reuters. "That logic, however, is not understood by the rest of the world, so it's not easy," he said.
The Associated Press contributed to this report