North Korea's 'army of beauties' cheerleading squad heading to South Korea for Olympics
North Korea's cheerleading squad — dubbed the Hermit Kingdom's "army of beauties" who are handpicked by Kim Jong Un himself — is set to make its fourth visit to South Korea for the Winter Olympics, and the beauty brigade is already attracting major attention in the hopes of boosting ticket sales.
It isn't easy to get on the elite cheerleading squad. Kim and North Korean officials "cherry-pick" the women, who are mostly in their 20s, based on their appearance and family background, North Korean defector and researcher An Chan-Il told AFP.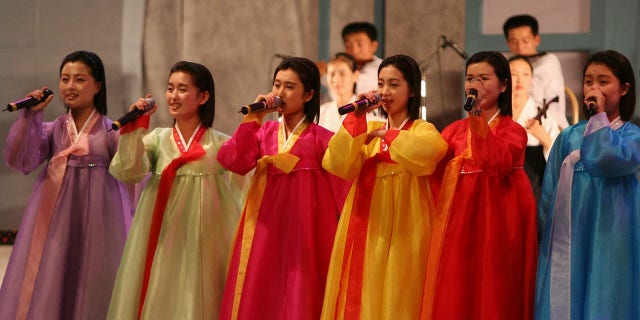 "They must be over 5 feet 3 inches tall and come from good families," An told AFP. "Those who play an instrument are from a band and others are mostly students at the elite Kim Il-Sung University."
KIM JONG UN'S FAVORITE GIRL BAND MAY BE AMONG 140-MEMBER ART TROUPE FROM NORTH KOREA HEADING TO OLYMPICS
Kim's reclusive wife, Ri Sol Ju, was previously part of the cheer group and attended the 2005 Asian Athletics Championships in Incheon, South Korea, before marrying the despot four years later.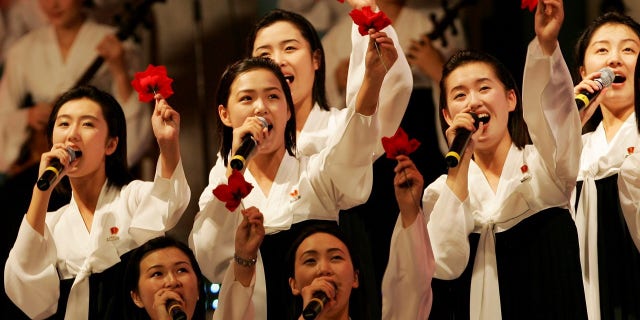 North Korea announced on Wednesday it's planning to send a 230-member cheering squad to the Pyeongchang Winter Games from Feb. 9-25. The secretive regime is set to send a delegation that included a 140-member art troupe, officials, athletes, journalists and a taekwondo demonstration team.
Olympic organizers are already predicting higher ticket sales because of the popular cheer squad.
"It will help with ticket sales," Pyeongchang Organizing Committee spokesman Sung Baik-You said. "It will fulfill our desires for a peace Olympics."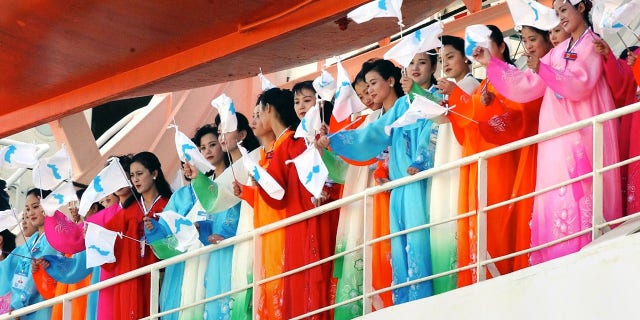 The "army of beauties" first appeared at the 2002 Asian Games in Busan with nearly 300 North Korean cheerleaders arriving at the event wearing traditional Korean dresses, called hanboks, and waving unification flags, AFP reported.
Their routines include singing, dancing and sometimes using fans as props — fostering more cheers and excitement among onlookers, according to the report. One North Korean cheerleader, Cho Myung-Ae, even gained so much popularity in South Korea that she reportedly appeared in a Samsung commercial in 2005 with South Korean pop star Lee Hyo-Ri.
VISITING NORTH KOREA? DRAFT A WILL AND MAKE FUNERAL PLANS, STATE DEPARTMENT SAYS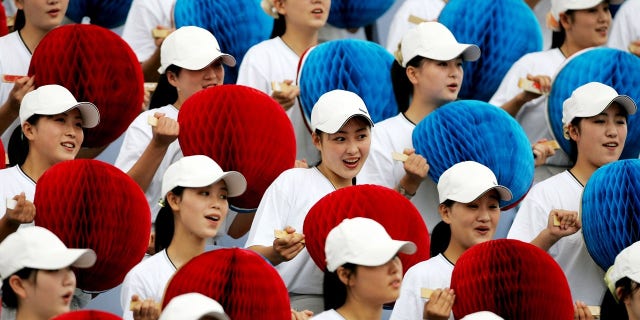 Kim may also send his favorite girl band, the Morangbon Band, to the Olympics. Delegations from the North and the South met on Monday and agreed to send an art troupe that would include the Samjiyon band, the 80-member North Korean orchestra and 60 other singers and dancers that will perform in Seoul and Gangneung, where some of the Olympic competitions will be held.
Though the joint statement didn't specifically mention "North Korea's only girl group," Hyon Song Wol, the ensemble's leader, was one of the four people in North Korea's delegation at Monday's meeting — fueling rumors the Moranbong Band will be making an appearance at the Winter Games.