North Korean military drill reportedly features attack on South's Blue House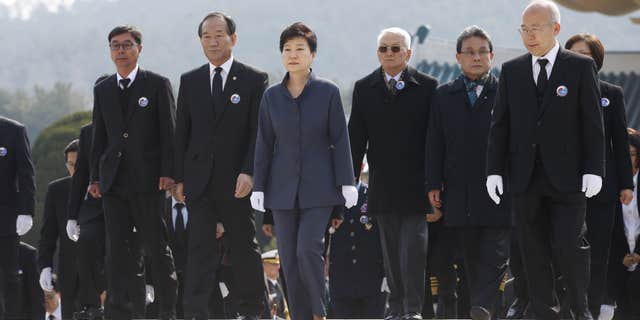 North Korea increased its threatening rhetoric on Seoul Friday, saying it carried out a military exercise targeting the official residence of South Korea's president.
BBC, citing the KCNA state news agency, reported the drill was overseen by North Korean dictator Kim Jong-Un. Kim called on his army to be ready to "ruthlessly" destroy the South Korean government.
Pyongyang is known for making threats to wipe out Seoul and the U.S. but in recent weeks has taken parting shots at South Korea's President Park Geun-hye after her warning that Kim's regime is bound to collapse. Pyongyang responded with personal attacks against Park.
North Korea's state news agency said the military exercise was the country's largest and consisted of long-range artillery training with the simulated attack on the presidential Blue House, according to Reuters.
Pyongyang's angry threats have come as a response to the ongoing South Korea-U.S. drills, which started after North Korea conducted its fifth nuclear test in January and launched a long-range rocket in February.
North Korea said Thursday that it had successfully conducted a solid-fuel rocket engine test, which if confirmed would be a major step forward in boosting its missile attack capability against South Korea and the United States.
North Korea is known to use liquid propellants for its main ballistic missiles that target South Korea, U.S. bases in the Asia-Pacific region and the American mainland.
Kim expressed delight after observing the successful testing of a "large-output solid fuel rocket engine," which made an "earth-shaking" sound as it spit out a large beam of fire.
Kim said that the test will enhance a missile capability that will "mercilessly" strike enemies in an apparent reference to South Korea and the United States.
According to BBC, it's not clear when exactly Friday's drill was carried out but the state's report warned of a "miserable end" for Park.
The last time the Blue House was attacked was in 1968. North Korean commandos attempted to kill then-President Park Chung-hee was were unsuccessful. Only seven South Koreans were killed in onslaught while several of the 31 North Korean fighters were killed.
The Associated Press contributed to this report.