North Korean horror: Newly exposed video reveals brutal tactics of Otto Warmbier's sadistic torturers
Many detainees are tortured into confessing crimes they didn't even commit.
And this is just the tip of the iceberg when it comes to the treatment of inmates inside Kim Jong Un's torture chambers and prison camps.
The brutality of the North Korean regime was once again cast into the international spotlight following the death of 22-year-old American student Otto Warmbier last week.
While the brutal conditions inside North Korea's prison camps and detention centres are well documented, less is known about how the American came to be in a coma in the first place.
NORTH KOREA DENIES TORTURING OTTO WARMBIER
However a 2012 video could provide some clue as to how North Korea treats its detainees and prisoners.
The shocking video provides a glimpse of what takes place inside North Korea's prison system where anyone who is even accused of minor crimes is made to pay for it.
In the horrifying footage, a man can be seen being beaten and tortured, his legs twisted repeatedly while he sits in a chair.
In other scenes a woman is accused of having sex with Chinese and South Korean men and is repeatedly punched and kicked by a state security agent.
COLLEGE PROF WHO SAID OTTO WARMBIER 'GOT WHAT HE DESERVED' WILL NOT RETURN TO SCHOOL
QUESTIONS REMAIN
Warmbier was on a tourist trip to North Korea when he was detained for allegedly stealing a political poster from a hotel in Pyongyang last year.
He was sentenced to 15 years hard labor but died six days after returning to the US in a coma.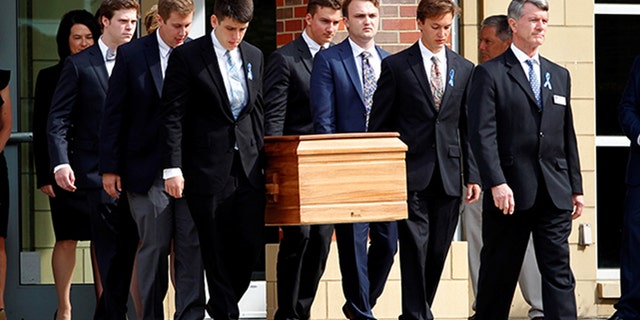 Doctors said the University of Virginia student had suffered severe brain damage, which doctors said was likely due to cardiopulmonary arrest suffered while in North Korean detention.
Warmbier died last Monday of severe brain damage in a Cincinnati hospital and was buried three days later.
SHOULD US CONSIDER DRASTIC ACTION TO STOP NORTH KOREA?
Medical tests didn't show what precipitated his injuries but doctors found no evidence of the botulism infection that North Korea claimed caused his coma.
U.S. doctors said given Warmbier's young age his severe brain injury was most likely caused by cardiopulmonary arrest cutting the blood supply to the brain.