North Korean diplomat who negotiated 1994 nuke deal with US dies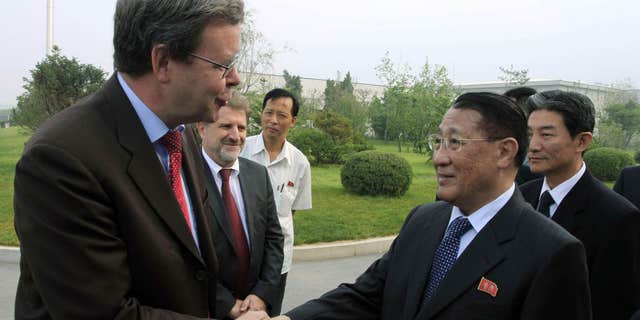 SEOUL, South Korea – A top North Korean diplomat who negotiated a short-lived 1994 deal with the United States to freeze its nuclear programs in exchange for international aid has died of cancer, the country's state media said Saturday.
The North's Korean Central News Agency said Kang Sok Ju, a "trustworthy revolutionary comrade" of North Korean leader Kim Jong Un and an "excellent son" of the country's ruling party, died of esophageal cancer Friday afternoon at the age of 76.
Kang, a longtime foreign policy specialist for the North, was Pyongyang's chief negotiator when it reached a landmark agreement with Washington in 1994 to freeze and eventually dismantle its nuclear facilities in exchange for international aid to build two electricity-producing nuclear reactors.
The deal fell apart in 2002 after revelations that the North had operated a secret nuclear weapons program in violation of the agreement, which was disclosed shortly after a meeting between Kang and then-U.S. Assistant Secretary of State James Kelly.
South Korea's spy agency told the Associated Press on Tuesday that it believed senior North Korean diplomat Ri Su Yong had been promoted to vice chairman for international affairs of the ruling Workers' Party to replace Kang, whose absence from the party's first congress since 1980 earlier this month further fueled speculation about his health problems.
North Korea's embassy in London informed the British government on Monday that Ri Su Yong has been replaced by former Vice Foreign Minister Ri Yong Ho as the country's foreign minister. A protege of Kang as a diplomat, Ri Yong Ho was the North's top envoy to stalled six-nation disarmament talks on his country's nuclear weapons program and participated in talks with the United States in the 1990s, including the negotiations that led to the 1994 agreement, South Korean analysts say.
Some experts say that the personnel changes could also be part of the North's attempt to revive long-stalled diplomacy and improve ties with the outside world after its recent nuclear test and long-range missile launch, which prompted international condemnation and sanctions.
KCNA said the Workers' Party's Central Committee and the Presidium of the Supreme People's Assembly, the North's rubber-stamp parliament, have formed a committee to prepare a state funeral for Kang.
The report said the committee will be led by Choe Ryong Hae, whose regaining of a seat on the powerful Presidium of the party's Central Committee was seen by many as the most significant promotion at the congress. Once considered Kim Jong Un's No. 2, Choe was believed to have been briefly banished to a rural collective farm last year for re-education.