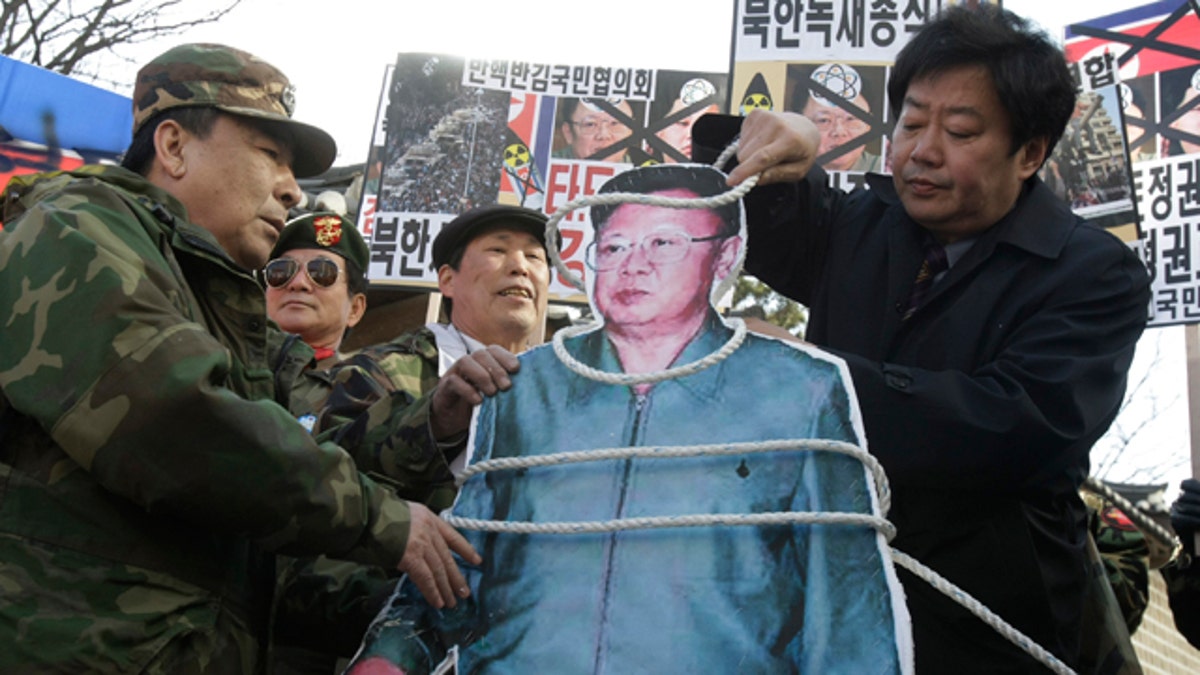 SEOUL, South Korea – North Korea threatened Sunday to enlarge its nuclear arsenal and "mercilessly" attack South Korea and the United States, as the allies prepared for joint military drills which the North considers a rehearsal for invasion.
North Korea routinely issues threats over the annual joint military drills, but its latest warning could rekindle tensions that rose sharply after two recent deadly incidents blamed on the North.
North Korea fired artillery at a front-line South Korean island in November, killing four people. Forty-six sailors died when a South Korean warship sank eight months earlier. North Korea has denied firing a torpedo at the ship.
North Korea called the South Korea-U.S. drills, which begin Monday, a "dangerous military scheme."
"The army and people of (North Korea) will return bolstered nuclear deterrent of our own style for the continued nuclear threat by the aggressors," North Korea's military said in a statement carried by the official Korean Central News Agency.
It accused South Korea and the U.S. of plotting to topple the North's communist government. It said if provoked, North Korea would start a "full-scale" war, take "merciless counteraction" and turn Seoul into a "sea of flames."
North Korea also warned it would take "our own missile striking action" against what it called moves by the U.S. and South Korea to eliminate the North's missiles. The statement didn't elaborate.
Earlier Sunday, the North's military warned that it would destroy South Korean border towns if Seoul continues to allow activists to launch propaganda leaflets toward the communist country.
In a separate statement carried by KCNA, it accused South Korean activists and lawmakers of flying balloons carrying hundreds of thousands of leaflets and DVDs critical of North Korea's government on the North's most important national holiday, an apparent reference to leader Kim Jong Il's 69th birthday, which was Feb. 16.
It was unclear whether activists have launched more balloons since then.
A South Korean Defense Ministry official said his ministry was aware of the North's warning and was keeping a close watch on its military movements. The official spoke on condition of anonymity, citing ministry rules.
Defense Minister Kim Kwan-jin told parliament Friday that North Korea may launch new attacks this spring and that South Korea's military is ready to cope with any hostilities.
Kim Yong-hyun, a North Korea expert at Seoul's Dongguk University, said he believes any new provocation by the North is unlikely to involve human casualties because of the increased confrontation with the outside world that would result.
The joint South Korean-U.S. drills will rehearse responses to any potential emergency on the Korean peninsula.
About 12,800 U.S. troops and some 200,000 South Korean soldiers and reservists are to take part in the drills, which will last 11 days and involve computer war games, live-firing exercises and other field training, according to the U.S. and South Korean militaries.
North Korea has called the drills a preparation for an invasion, although South Korean and U.S. officials have repeatedly said they are purely defensive.
After weeks of high tension following its November bombardment of the island, North Korea pushed for dialogue with South Korea and expressed a desire to return to stalled international talks on its nuclear program.
Military officers from the two Koreas met earlier this month but failed to make progress, with both sides accusing the other of rupturing the dialogue. North Korea later threatened not to hold any more military talks with Seoul.
The two Koreas are still technically at war because the 1950-53 Korean War ended with an armistice, not a peace treaty. About 28,500 U.S. troops are stationed in South Korea to help deter potential aggression by the North.