North Korea threat: EU seeking role in ending regime's nuclear program
NEWYou can now listen to Fox News articles!
The European Union is in discussions with South Korea and China about taking a potential role as a broker for negotiations with North Korea on ending its nuclear program, according to EU officials involved in the effort.
The discussions reflect concern in Brussels, Seoul and Beijing that sanctions alone won't persuade Pyongyang to halt its nuclear program and that negotiations are needed to avoid military conflict.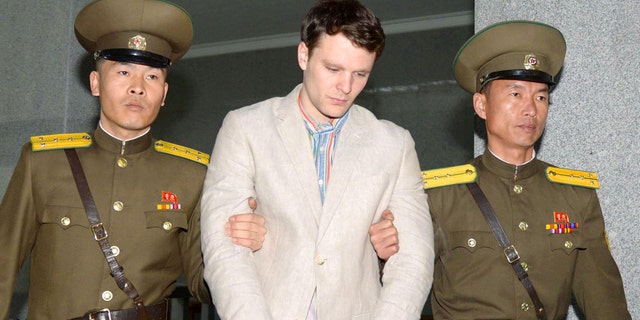 The death this week of Otto Warmbier, the American college student imprisoned in North Korea for more than a year before returning home with a severe brain injury, has added to pressure in Washington for more strenuous action against Pyongyang.
A series of meetings in recent weeks in Brussels and Beijing have focused on ways that participants believe the EU could facilitate negotiations with North Korea, drawing on its members' diplomatic ties with Pyongyang and on its experience in helping to negotiate the 2015 nuclear deal with Iran, the officials said.
EU officials have discussed the matter with Chinese Premier Li Keqiang during his visit to Brussels this month, and with South Korea's special envoy, Cho Yoon-je, in May.
Any role for Brussels would need backing from Washington and EU member states, neither of which is assured.
The Wall Street Journal reported this week that the U.S. has held secret talks with North Korea for more than a year, hoping to free U.S. prisoners and establish a diplomatic channel for efforts to constrain Pyongyang's nuclear and missile programs.
EU officials said they wouldn't do anything to undermine U.S. moves to tighten economic sanctions on Pyongyang.
Click for more from The Wall Street Journal.