North Korea terror threat remains a concern as Winter Olympics prep gets underway
South Korean officials are getting ready for the worst as they prepare for their Winter Olympic games in PyeongChang in February.
The site is just 50 miles south of the heavily militarized border between North and South Korea. There are concerns the regime of Kim Jong Un will use the global event to stir up trouble.
And so, on Tuesday over 400 police officers ran through drills, staging a range of offensive actions that the North might target while the event is underway. They included a drone armed with a bomb, a chemical weapon attack, and hostage-taking. Some 5,000 armed forces personnel will be deployed to the actual Games.
South Korean Prime Minuster Lee Nak-yon said he would continue making sure there are no "security loopholes."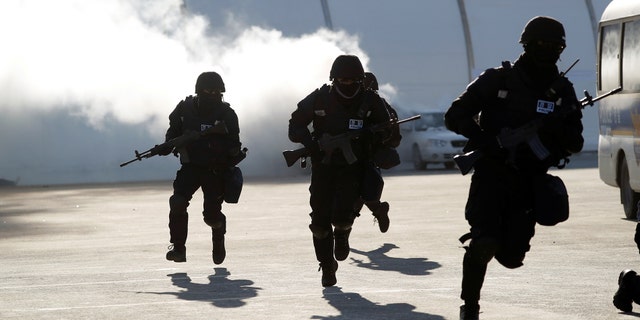 The security drills come amid new reports that South Korea is asking the U.S. to put off staging two major military exercises until after the end of the Winter Paralympics in March. Those exercises infuriate the Pyongyang regime, which brands them a "rehearsal for war." No word yet whether the Pentagon will agree.
There has been talk among regional diplomats of a "freeze-for-freeze" arrangement in which North Korea would suspend its missile and nuclear tests in exchange for a halt to U.S.-South Korea joint military exercises.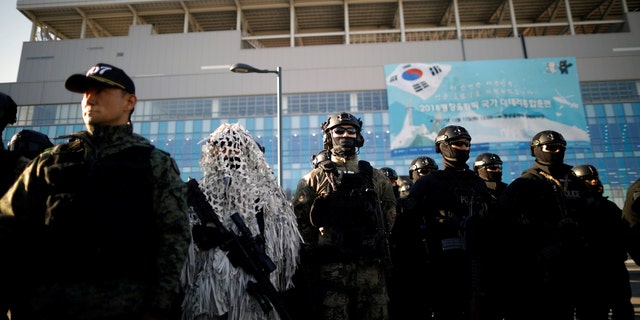 But exercises have continued this month.
U.S., South Korea and Japan are participating in anti-missile drills involving high-tech armed destroyers in the Sea of Japan, off the Korean peninsula. There are new fears that North Korea is preparing missiles able to be launched from submarines, extending their possible range.
A recently tested North Korean ICBM is, according to experts who spoke to Fox News, capable of hitting anywhere in the mainland U.S., and could potentially be outfitted with a nuclear weapon.