North Korea, South Korea move closer to reopening factory park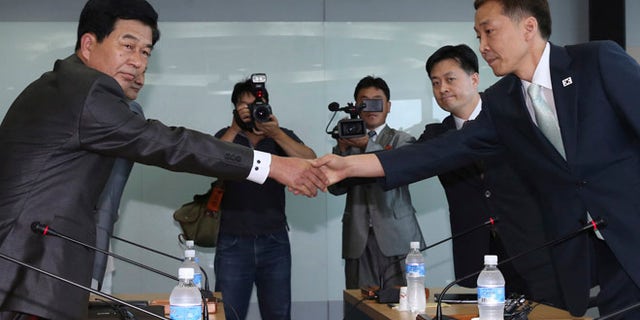 PAJU, South Korea – North and South Korea on Wednesday moved closer to reopening a jointly run factory park, raising hopes for an improvement in ties between rivals that were trading war threats this spring.
There was no word about when operations might resume, but the Koreas' meeting, while not conclusive, can be considered progress after six failed rounds of talks, the last of which ended in a scuffle.
The industrial complex in North Korea's third-largest city, Kaesong, had been the last symbol of cooperation between the Koreas until Pyongyang halted operations during a torrent of threats earlier this year that included vows of nuclear strikes on Washington and Seoul.
The Koreas released a statement saying they will "actively" make efforts to help South Korean companies repair facilities and resume operations at Kaesong.
Chief South Korean delegate Kim Kiwoong indicated cautious optimism, saying the joint statement was "not the end but a beginning" and that it was difficult to say exactly when the park might be reopened, according to South Korean media pool reports.
In an unexpected twist, both countries said they want to attract foreign companies to the park and would allow it to have Internet and mobile phone connections if operations resume.
Kaesong's lack of Internet and mobile connections frustrated South Korean factory managers who relied on landline phones and faxes to communicate with the South. North Korea has a domestic mobile phone service and Intranet which are walled off from global networks.
North Korea has been trying to attract foreign investors in other free economic zones but no major progress has been reported. It is uncertain whether any foreign companies would be willing to brave Kaesong. The park's reputation has been tainted by the four-month shutdown, which caused losses for the South Korean companies with assembly lines at the complex.
The industrial park combined South Korean initiative, capital and technology with cheap North Korean labor. It was also a rare source of hard currency for North Korea, though the impoverished country chafed at suggestions that it needed the money Kaesong generated.
The statement Wednesday said North and South Korea agreed to soon launch a joint committee meant to carry out their agreement.
Ties have improved somewhat in recent weeks, but Wednesday's talks come ahead of military drills next week between South Korea and its U.S. ally. Pyongyang used a previous routine drill between the allies, along with U.N. sanctions over its February nuclear test, to justify its outburst of threatening rhetoric in March and April.
The decade-old industrial park had survived previous periods of tension, including attacks blamed on Pyongyang that killed 50 South Koreans in 2010, and the shutdown of other big cooperation projects.
By the end of 2012, South Korean companies had produced a total $2 billion worth of goods during the previous eight years.
North Korea is estimated to have received $80 million in workers' salaries in 2012, an average of $127 a month per person, paid in U.S. dollars, according to the Unification Ministry in Seoul.
For North Korea, the park's resumption is important because the country wants to draw outside investment to revive the economy, said Chang Yong Seok, a senior researcher at Seoul National University's Institute for Peace and Unification Studies.
Pyongyang has to take care of its 53,000 Kaesong workers, and wants a return of the hard currency Kaesong provided, Chang said.