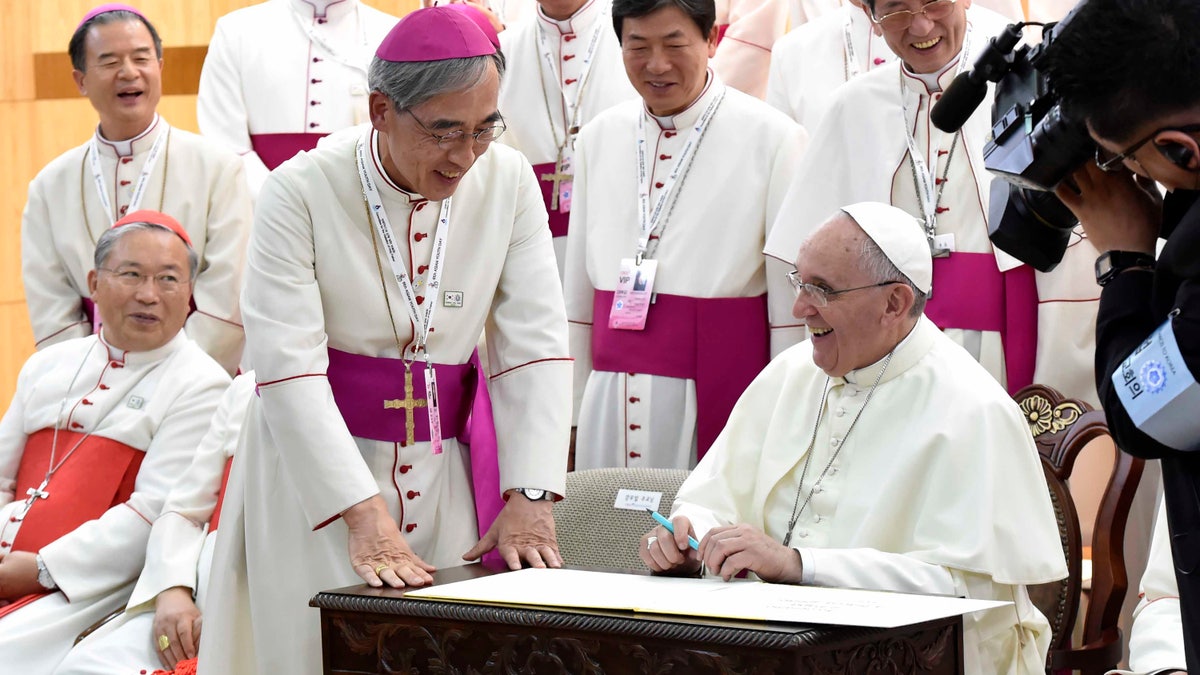 North Korea claimed Friday that the launch of three missiles off its east coast Thursday was not connected to Pope Francis' historic visit to South Korea.
South Korea's Defense Ministry reported Thursday that North Korea fired three short-range projectiles into the sea, one less than an hour before rival Seoul welcomed the pope for a visit. The official says that the projectiles were fired from Wonsan on the east coast and flew about 135 miles.
But the North Korean Central News Agency quoted rocket scientist Kim In-yong Friday, saying the timing was mere coincidence, the New York Times reported.
"We don't know and in fact have no interest at all in why he is traveling to South Korea and what he is going to plot with the South Korean puppets," Kim said.
Kim was quoted as calling such an idea "absurd," suggesting such tests were conducted under predetermined schedules. Pyongyang has conducted numerous rocket launches in recent months, but the timing Thursday led to speculation that it was meant to send a message, as the first papal visit in 25 years began.
The real question, the report quoted Kim as saying, was: "Why of all the days of the year, as numerous as the hairs of a cow, did the pope choose to come to the South on the very day we had planned to test our rockets?"
As South Korean President Park Geun-hye welcomed the pope Thursday, she spoke about North Korea's persecution of Christians and reiterated her demand that the North give up its nuclear weapons program.
Pope Francis called Thursday for peace and unity on the war-divided Korean Peninsula and for both sides to avoid "fruitless" criticisms and shows of force, offering a message of reconciliation.
Neither Francis nor South Korean President Park Geun-hye referred to the firings in their speeches at Seoul's presidential palace, and the Vatican spokesman sought to downplay the incident altogether, saying he wasn't even sure the pope had been told.
North Korea has expressed anger over annual military drills between the United States and South Korea, which it says are invasion preparations. A new round of drills, which Seoul and Washington call routine and defensive, is expected to start in coming days.
Park, the South Korean president, said she hoped the pope's presence would heal the Korean Peninsula's "long wounds of division," referring to the 1950-53 Korean War, which continues to divide the Koreas along the world's most heavily guarded border.
The Associated Press contributed to this report.