North Korea says it's sending 5-member delegation to talks with South Korea
North Korea announced on Sunday it will be sending a five-member delegation to this week's high-level talks with South Korea--the first formal dialogue between the two countries in more than two years.
The talks are being held to discuss the hermit regime's inclusion in the the upcoming Winter Olympics in South Korea.
The North Korea delegation is being led by veteran negotiator Ri Son-gwon, who chairs the Committee for the Peaceful Reunification of Korea, a state agency in charge of inter-Korean affairs, South Korea's Yonhap News Agency reported. On Saturday South Korea said it will send its own five-member delegation, led by unification minister Cho Myoung-gyon.
"We believe that the South and North have finalized the organization of their delegations in a balanced way," a South Korean official told Yonhap.
NORTH KOREA SAYS ITS LIKELY TO JOIN OLYMPICS IN THE SOUTH: REPORTS
Ri has led North Korea's delegation in cross-border military talks since 2006. He is considered the "right-hand man" of the Central Committee of the Workers' Party's chairman Kim Young-chol. Kim is known to have orchestrated the 2010 torpedo attack on a South Korean Navy ship that killed 46 sailors, Yonhap reported.
North and South Korea agreed Friday to hold talks in the DMZ village of Panmunjom. The Olympic games in Pyeongchang start Feb. 9. South Korean officials hope the talks can lead to discussions on improving relations.
TRUMP ON NORTH KOREA, FROM 'ROCKET MAN' TO 'FIRE AND FURY'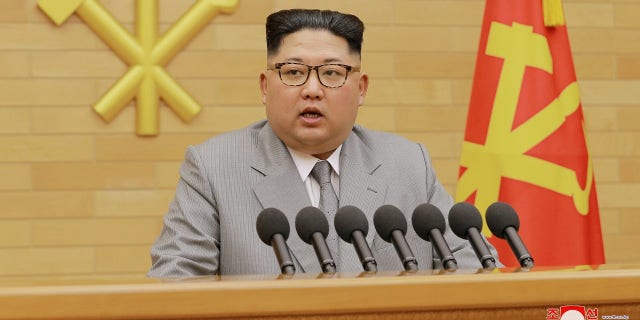 South Korean Sports Minister Do Jong-hwan said last week the dialogue could be the olive branch that ushers in a new era of peace and prosperity in the Korean Peninsula after a year of threats and nuclear and missile tests by the rogue regime.
North Korean dictator Kim Jong Un, in his New Year's Day address, said he "sincerely" hoped the Winter Olympics "will be a success" and added he's willing to send a delegation. North Korea's IOC representative Chang Ung on Saturday said his country is likely to compete in figure skating in the Olympics, Japan's Kyodo News service reported.
Figure skating pair Ryom Tae Ok and Kim Ju Sik are the only North Korean athletes who have qualified. The duo won North Korea's first medal — a bronze — at the Asian Winter Games in Sapporo, Japan, last February.
The Associated Press contributed to this report.