North Korea releases photos showing apparent dismantling of nuclear site
NEWYou can now listen to Fox News articles!
New pictures were released Thursday showing the reported destruction of what North Korea has claimed to be a nuclear testing site.
The images come hours after a series of explosions demolished a supposed test site, located in the mountains of the country, and was witnessed by invited foreign journalists.
The explosions appeared to send debris and dark plumes of smoke soaring into the air, according to the photos of the event provided by North Korea's Korean Central News Agency, via Reuters.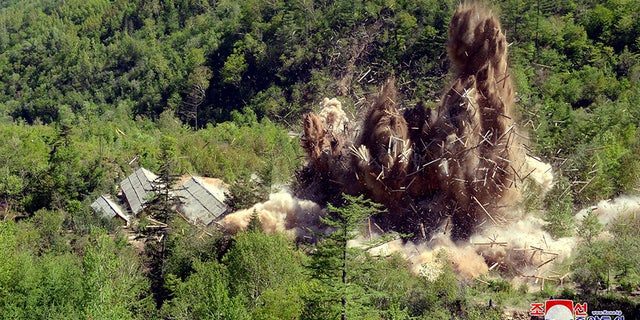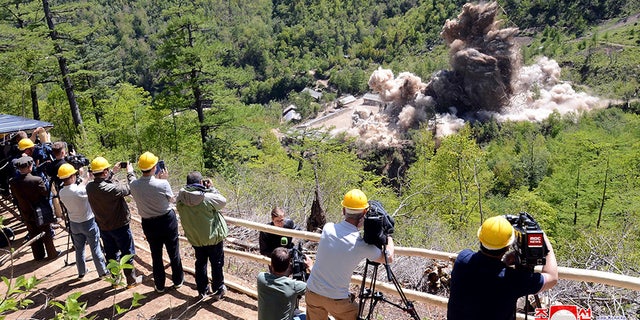 In one, onlookers wearing yellow hard hats are seen filming the event from a distance.
NORTH KOREA CLAIMS TO HAVE DEMOLISHED NUCLEAR TEST SITE
The explosions at the supposed nuclear test site were reportedly centered on three tunnels into the underground site and a number of observation towers in the area.
North Korean dictator Kim Jong Un previously announced that Punggye-ri would be closed ahead of a once-scheduled summit with President Trump.
However, Trump on Thursday cancelled the highly anticipated meeting, slated for June 12 in Singapore, calling the talks "inappropriate" following the "hostility" displayed in recent comments from North Korea.
WHITE HOUSE PULLS OUT OF SUMMIT WITH NORTH KOREA'S KIM JONG UN
In a letter addressed to the rogue regime's leader, Trump said the world and North Korea had lost a "great opportunity for lasting peace and great prosperity."
"Based on the tremendous anger and open hostility displayed in your most recent statement, I feel it is inappropriate, at this time, to have this long-planned meeting," Trump wrote. "Therefore, please let this letter serve to represent that the Singapore summit, for the good of both parties, but to the detriment of the world, will not take place."
NORTH KOREA THREATENS TO BACK AWAY FROM SUMMIT WITH US, REPORTEDLY CALLS PENCE 'POLITICAL DUMMY'
Trump's decision came on the heels of threats from North Korea to call off the talks. On Thursday, Vice Minister of the North Korean Foreign Ministry, Choe Son Hui, said that whether the U.S. "will meet us at a meeting room or encounter us at nuclear-to-nuclear showdown is entirely dependent upon the decision and behavior of the United States," according to South Korea's Yonhap News Agency.
The official also reportedly insulted Vice President Pence after he said North Korea had asked for the meeting.
Fox News' Ryan Gaydos, Brooke Singman and Nicole Darrah contributed to this report.