North Korea pushing 'vanity projects' as Olympics near, despite suffering in Kim Jong Un's regime
NEWYou can now listen to Fox News articles!
The apparent charm offensive comes from multiple angles: NBC's Lester Holt promoting a "modern" North Korean ski resort, Dennis Rodman on late night TV saying Kim Jong Un is a misunderstood leader, press reports dramatizing a huge, swanky skyscraper known as the "Hotel of Doom" and officials boasting about plans for a new tourist destination with a "famous sandy beach."
But despite the image North Korea is trying to project to the world, Kim's people are still suffering as the dictator appears to care more about feeding perception than feeding his own people due to the pressure of crippling international sanctions.
"These are not just vanity projects, but they reflect his desire to look modern and upscale and counter the existing narrative," Jung Pak, a senior fellow at the Brookings Institution's Center for East Asia Policy Studies, told Fox News.
"On one hand, there is the respect aspect of it," Pak said, noting that Kim wants people to think "that North Korea is not this terrible, awful place where people are starving."
Pak added that the projects, such as the Masikryong ski resort, where a South Korean Olympic team started training Wednesday amid widespread media attention, are also "free advertising.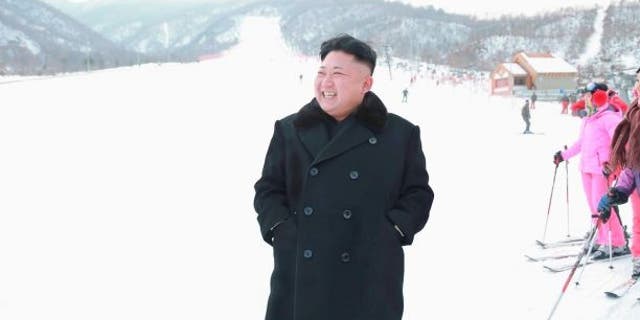 "The Olympic outreach was a zero cost effort for them in terms of getting international attention for the facilities that they built for this occasion," Pak told Fox News.
Holt was slammed on social media last week for giving a cheery dispatch from the slopes of Masikryong alongside video footage that made it look like a bustling resort, despite reports that it's usually a ghost town.
Residents are also becoming skeptical of the facilities that are in the process of being built, such as the "Wonsan Kalma Shore Tourist Zone," recently trumpeted by state media as a "world level" destination that will "satisfy the demand of domestic and foreign tourists," according to Reuters.
The news agency says tourism is one of the few remaining cash sources for North Korea not targeted by international sanctions, even though the U.S. banned its citizens from traveling there last year.
"There is an agreement among residents that any tourist money will only go to cadres and administrators, and that ordinary people won't even be allowed to enter the areas," a source in Kangwon province, the area where the resort is under construction, told Daily NK.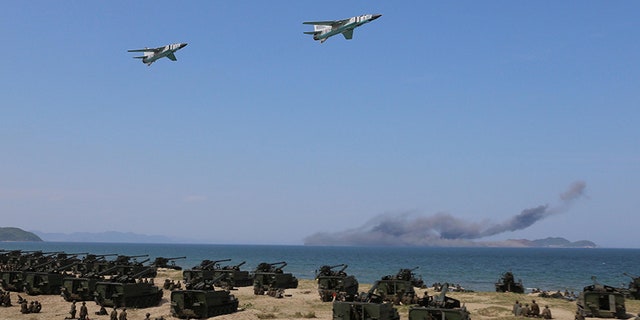 Other sources told Daily NK that Kim's regime has mobilized 120,000 soldiers and 20,000 citizens to help get the beach destination finished before the July 27 "Victory Day" holiday, hoping to capitalize on any positive publicity through their participation in the PyeongChang Winter Olympics.
"The authorities are now issuing orders for Wonsan area residents to provide construction materials for the mobilized workers before March," a source told Daily NK. "All households in the area must also contribute things like winter clothing and rice, which is resulting in endless complaints from the residents."
Near the planned beach resort, Kalma International Airport -- which opened for business in September 2015 and would be a transportation hub for any visitors -- has yet to see any international flights, Reuters reported.
Planes were nowhere to be found in satellite imagery of the airport on Google Maps, and the parking lot outside the terminal appeared to be deserted as well.
In April last year, Kim did use beaches near the airport, though, to stage an artillery drill called the largest ever by state media, according to Reuters.
But in December, former NBA basketball star Dennis Rodman, who has met repeatedly with Kim in recent years, insisted on Stephen Colbert's CBS program the ruler told him he didn't want war.
"I think his grandfather and father – that regime – has [been] passed onto him," Rodman said in December. "I think he really wants to change his culture, but I think he is forced to be in this position, because every time I go over there he has changed so much for the people, and people don't see that."
Jean Lee, a global fellow at the Woodrow Wilson International Center for Scholars, said resorts like Masikryong are part of Kim's campaign to use sports and leisure to win over the loyalty of the next generation of North Koreans.
"As a young man in his mid-30s, Kim Jong Un must woo the next generation if he's to rule for decades to come," Lee told Fox News. "Sports and technology — two things all young people love — are part of that equation."
South Korean officials have defended the decision to have the country's athletes train at Masikryong.
"The idea is part of Seoul's vision to make the upcoming event the 'Peace Olympics,'" an official at Seoul's unification ministry said last week, according to Yonhap News Agency. "It was proposed as a way to help improve inter-Korean ties and ease tensions on the Korean Peninsula, and it was realized [in the two sides' agreement]."
Lee, a longtime journalist who also opened the Associated Press' Pyongyang bureau in 2012, said she visited Masikryong in 2014 and there is a "stark and unsettling" contrast between the luxury of the resort and the underdeveloped countryside around it.
"You can't help but think the money would have been better spent on basic infrastructure — roads, access to clean water -- that the region really needs," she told Fox News. "But this is an example of the leader calculating that the investment will pay off in the long term, just as he sees the costly investment in nuclear weapons as a long-term investment in North Korea's defense."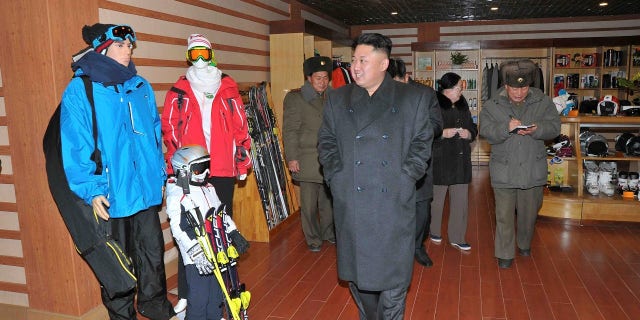 And the nuclear weapons push appears to be putting the hurt on North Korea's economy.
Last week, reports surfaced that the repeated missile tests and vanity projects like Masikryong have nearly depleted a critical slush fund that Kim Jong Un uses to run his isolated country.
"Due to Kim Jong Un's extravagant spending, the slush fund from his father, Kim Jong Il, is running out," a source told Radio Free Asia.
Another source said North Korea's participation in the Winter Olympics is a way to solicit charity while appearing to mend relations with South Korea.
"North Korea's warm gestures toward South Korea have underlying intentions: to use the PyeongChang Winter Olympics that will be held there from Feb. 9 as a breakthrough for their financial difficulties," the source said.
Bloomberg reports that North Korea's trade with China – one of its main financial backers – shrank by more than half in December because of international sanctions brought upon it over the missile tests.
The sanctions – combined with a drought and a poor harvest last year – have depleted some of the military's food rations, leading officials to ransack the homes of farmers to collect every last grain of food inside, Daily NK has reported.
Sickness is also ravaging North Korea, leaving it struggling to treat more than 81,000 people infected with swine flu, according to a World Health Organization report released Friday. The organization said three children and an adult have died from the outbreak of Influenza A/H1N1.