North Korea promises to bring 'nuclear clouds' to Japan, mocks PM as 'headless chicken'
North Korea threatened to bring "nuclear clouds" to Japan and mocked Prime Minister Shinzo Abe for acting like a "headless chicken" at the United Nations General Assembly when the leader urged U.N. members to force North Korea to end its nuclear and missile programs.
Pyongyang claimed Japan was inciting more tension in the Korean peninsula, calling its plea to end Kim Jong Un's nuclear goal a "suicidal deed" that will end with a nuclear attack to sink the island, according to a statement released Monday by the state's official Korean Central News Agency.
"Japan's such rackets inciting the tension of the Korean peninsula is a suicidal deed that will bring nuclear clouds to the Japanese archipelago," the statement said. "No one knows when the touch-and-go situation will lead to a nuclear war, but if so, the Japanese archipelago will be engulfed in flames in a moment. This is too self-evident."
NORTH KOREA'S HISTORY OF DECLARING WAR ON US
North Korea called Abe a "headless chicken" and said the country could be "the first victim of nuclear disaster in the world."
North Korea has already fired two missiles that flew over Japan in the last two months. The missile from the latest launch in September reached a height of 480 miles and flew 2,300 miles out, putting it in range of U.S. territory Guam. North Korea then threatened to "sink" Japan and reduce the U.S. to "ashes and darkness."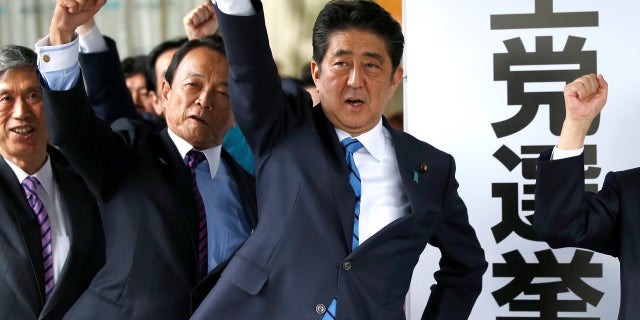 "The four islands of the archipelago should be sunken into the sea by the nuclear bomb of Juche. Japan is no longer needed to exist near us," KCNA said in another message.
A top government spokesman for Japan responded to the threat by calling it outrageous and provocative.
The growing nuclear threat pushed Abe to seek a public mandate on his tougher diplomatic and defense policies to deal with escalating threats from North Korea. He dissolved Japan's lower house of parliament and called for a snap election to be held this month.
CHINA CLOSES NORTH KOREAN BUSINESSES; NORTH KOREA ALLEGEDLY SWELLS ARMY TO FIGHT US
North Korea's string of belligerent threats have continued since President Trump vowed to "totally destroy" the dictatorship in his speech to the U.N. General Assembly. North Korea's foreign minister Ri Yong-ho said Trump's threatening words was a "declaration of war," though the White House insisted no such explicit statement was made.
Trump once again ripped "Little Rocket Man" Kim Jong Un in a series of tweets over the weekend after Secretary of State Rex Tillerson said there was "lines of communication" to Pyongyang. Trump urged Tillerson to "save [his] energy" because he was "wasting his time trying to negotiate with Little Rocket Man."
The Associated Press contributed to this report.