North Korea planning military event on eve of Winter Olympics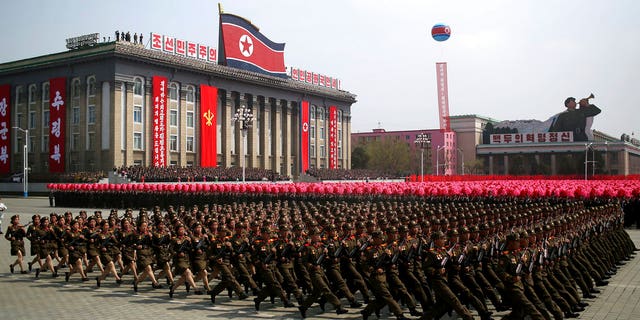 NEWYou can now listen to Fox News articles!
North Korea is preparing to stage a major event marking the 70th anniversary of the its military's founding on Feb. 8 -- just one day before the opening ceremony of the Winter Olympics in South Korea.
A major show of military power could anger South Korea, which is hoping the games will be a symbol of peace and stability. Seoul has agreed to North Korean leader Kim Jong Un's last-minute proposal to send a delegation to the games and will have its athletes march together with the North Korean team under a "unification flag."
Pyongyang residents have been assembling every day in freezing temperatures to practice for a mass rally by civilians in Kim Il Sung Square, while open-source satellite imagery obtained by outside analysts suggests military units are training at an airfield on the outskirts of the city for a possible military parade.
North Korea's state-run media hinted earlier this week that an event was in the works, saying the February anniversary would be marked with more significance and pomp this year.
The news raised eyebrows because the February anniversary comes one day before the opening ceremony for the Olympics in Pyeongchang, which will run Feb. 9-25.
North Korea's military parades are closely scrutinized for the unveiling of new missiles. But with no official confirmation, it isn't clear if the North would soften the event out of consideration for the Olympics or build it up into an even bigger spectacle for domestic propaganda purposes and as a slap at Washington.
An analysis published on a Johns Hopkins University-affiliated website showed satellite images suggesting that by Jan. 10 "considerable progress" had been made assembling troops and equipment for the upcoming parade and shelters for heavy equipment had been erected.
The Associated Press contributed to this report.