North Korea launches 3 ballistic missiles, US military confirms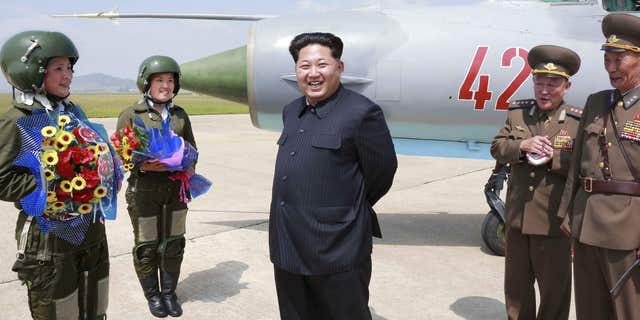 North Korea launched three missiles Monday, according to a statement from the U.S. Strategic Command in Nebraska.
The statement said that North Korea launch two Scud tactical ballistic missiles back-to-back and was followed by a No Dong intermediate range ballistic missile.
"The North American Aerospace Defense Command (NORAD) determined the missile launches from North Korea did not pose a threat to North America," the statement said.
The missiles launched from a western North Korea town flew across the country before crashing into the waters off its east coast, Seoul's Joint Chiefs of Staff said in a statement.
Two of them flew about 310 to 375 miles, displaying a sufficient range to reach entire South Korea, JCS spokesman Jeon Ha Gyu said. He said South Korea's military was analyzing how far the third missile flew. An earlier JCS statement said all three flew over 300 miles.
It's unclear whether the missiles were launched to coincide with the first day of the Republican National Convention in Cleveland where national security was the focal point.
North Korea have previously been testing Musudans since April. Pyongyang had failed five consecutive missile test last month before successfully launching one into space and then into the Sea of Japan.
The men and women of USSTRATCOM, NORAD and U.S. Northern Command, and U.S. Pacific Command remain vigilant in the face of North Korean provocations and are fully committed to working closely with our Republic of Korea and Japanese allies to maintain security," the U.S. military said.
North Korea routinely tests short-range missiles and artillery systems but the latest launches came days after the country warned of unspecified "physical counter-action" over the deployment of the Terminal High-Altitude Area Defense, or THAAD, system in the southern town of Seongju.
Jeon said South Korea "strongly condemns" the launches that he described as an "armed protest" against the THAAD deployment.
In Tokyo, Defense Minister Gen Nakatani said the launches were "an act of provocation that undermines regional and international security. ... We absolutely cannot accept it."
North Korea has already deployed a variety of missiles that can reach most of South Korea and Japan, including American military bases in those countries. The country is also pushing to develop a long-range nuclear-tipped missile that can strike the mainland U.S., but South Korean defense officials believe the North does not possess such a weapon.
Analyst Kim Dong-yub at Seoul's Institute for Far East Studies said the North appears to have demonstrated its ability to strike southern South Korean targets including an area where a THAAD battery is to be placed by the end of next year.
Seoul and Washington say they need the THAAD system to better deal with what they call increasing North Korean threats in the aftermath of its fourth nuclear test and long-range rocket launch earlier this year.
The Korean Peninsula remains in a technical state of war because the 1950-53 Korean War ended with an armistice, not a peace treaty. About 28,500 U.S. soldiers are stationed in South Korea to deter possible aggression from North Korea; tens of thousands more are stationed in Japan.
Fox News' Lucas Tomlinson and the Associated Press contributed to this report.