North Korea fires more rockets into the sea, South Korea says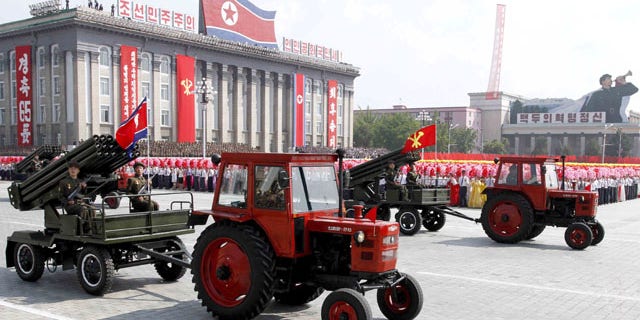 NEWYou can now listen to Fox News articles!
SEOUL, South Korea – North Korea launched short-range rockets into the sea off its east coast for a second straight day on Sunday -- 16 this time, according to South Korean officials, in what's believed to be Pyongyang's way of protesting U.S.-South Korean military drills.
The rockets flew about 37 miles early Sunday morning, said Col. Eom Hyo-sik, an official with South Korea's Joint Chiefs of Staff. That's about the same range as the 30 rockets the North fired early Saturday. South Korea believes the North fired FROG rockets, which are unguided, old Soviet-developed missiles that Pyongyang has had since the 1960s.
Pyongyang claims its rocket launches are part of routine drills and self-defensive in nature, but there have been an unusual number this year -- March has seen five launches so far -- coinciding with annual, routine war drills by Washington and Seoul that North Korea claims are invasion preparation. Analysts say the impoverished North chafes against the annual drills because it has to spend precious resources responding with its own exercises.
A week ago, North Korea launched 25 rockets with a range of about 44 miles, South Korea said, and earlier this month a North Korean artillery launch happened minutes before a Chinese commercial plane reportedly carrying 202 people flew in the same area.
The Korean Peninsula remains officially at war because the Korean War ended with an armistice, not a peace treaty.
Meanwhile, the leaders of the U.S., South Korea and Japan are set to meet and discuss North Korea in the Netherlands next week while attending a nuclear security summit.