North Korea calls UN sanctions 'an act of war,' 'rigged up by the US'
North Korea on Sunday condemned the latest U.N. sanctions as "an act of war and tantamount to a complete economic blockade" and threatened to "punish those who support the measure."
The response follows a unanimous vote Friday by the U.N. Security Council for tougher measures against Kim Jong Un's regime for its November test of an intercontinental ballistic missile.
With the resolution, the U.N. aims to limit North Korea's access to refined petroleum products and crude oil. In addition, the U.S.-backed resolution threatens to impose further restrictions if North Korea conducts another nuclear test or launches another ICBM, Reuters reported.
North Korea responded with a statement published by the state-run Korean Central News Agency: "We define this 'sanctions resolution' rigged up by the U.S. and its followers as a grave infringement upon the sovereignty of our Republic, as an act of war violating peace and stability in the Korean peninsula and the region and categorically reject the 'resolution.'"
After the country's latest ICBM test Nov. 29, Kim declared the country's nuclear force to be complete, and boasted of having all of the U.S. mainland within range.
But North Korea's foreign ministry insisted that the weapons were for self-defense and were not in violation of international law. However, North Korea has been pursuing its nuclear and missile programs for years in defiance of U.N. sanctions.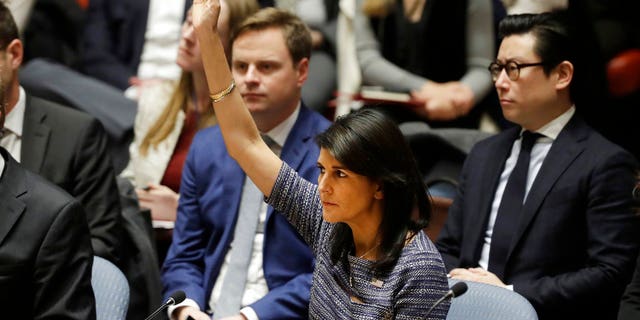 Meanwhile, the U.S. has been critical of China – North Korea's biggest trading partner – for not playing a bigger role in easing tensions. China has preferred to address North Korea with more measured solutions.
China said that the latest U.N. resolution highlights the need for a diplomatic solution to reduce tensions. A state-run tabloid in China suggested that the U.S. had pushed for even harsher sanctions, and that there was no way the U.N. would allow the U.S. to pursue military action on the Korean Peninsula.
"The difference between the new resolution and the original U.S. proposal," the tabloid said in an editorial, "reflects the will of China and Russia to prevent war and chaos on the Korean Peninsula. If the U.S. proposals were accepted, only war is foreseeable."