North Korea calls for unification of Korean Peninsula
North Korea on Thursday called for "all Koreans at home and abroad" to take steps toward unification without the help of any other countries.
The message urged all Koreans to "promote contact, travel, cooperation between North and South Korea," while assuring that Pyongyang would get over any hurdles in its way toward reunifying the peninsula, Reuters reported, citing North Korean state media.
North Korea also said military exercises with "outside forces" hindered the development of relations between North and South Korea. Pyongyang also called on Seoul go as far as stop the exercise with the U.S. "forever."
"The South Korean authorities should stop the war games with the U.S. forever and refrain from introducing the U.S. nuclear strategic assets and aggression forces to South Korea," it said.
North Korea said the high tensions on the Korean Peninsula was a "fundamental obstacle" for the improvement of relations between the rival nations and unification, Reuters reported, citing state media.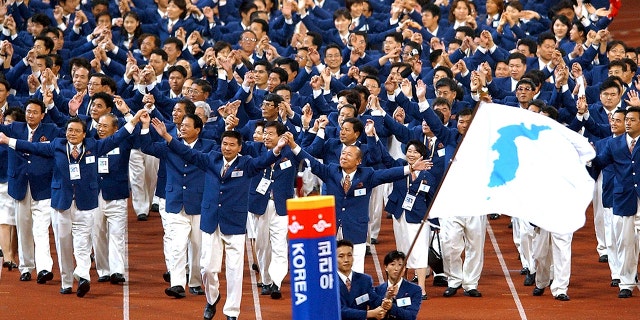 The idea of unifying the Korean Peninsula was slammed earlier this week when the unifying flag was waved promoting the so-called "peace Olympics." South Koreans told the Associated Press that using "sports diplomacy" was a waste of time and dated approach.
North Korea was all about firing missiles last year, but suddenly they want to come to the South for the Olympics? Who gets to decide that?" Kim Joo-hee, a 24-year-old translator, told Reuters in Seoul. "Does North Korea have so much privilege to do whatever they want?"
North Korea agreed to send a delegation to the Olympics and they will march with the South Korean team under the unification flag. South Korea will be the first host country to not wave its own flag at the opening ceremony.
The rogue regime is also preparing to stage a major event marking the 70th anniversary of the military's founding on Feb. 8 – a day before the opening ceremonies in Pyeongchang, South Korea.
A major show of military power could anger South Korea, which is hoping the games will be a symbol of peace and stability.
The Associated Press contributed to this report.