North Korea blasts US with threatening statement even as Pompeo meets with officials to finalize Trump summit
North Korean leader Kim Jong Un may be fully engaged in his so-called "charm offensive," talking with the United States and South Korea about denuclearization and economic opportunities -- but the Hermit Kingdom's propaganda arm continues to slam the U.S. for "misleading the public" and "stupid behavior."
Wednesday's statement from the state-run Korean Central News Agency was put out just as U.S. Secretary of State Mike Pompeo was leaving North Korea with three American detainees released by Kim as a goodwill gesture ahead of scheduled talks with President Trump. The regime appeared to have been upset U.S. analysts have given Trump's "maximum pressure" strategy credit for driving Kim to the negotiating table.
"It is a stupid behavior just like a saying that curses, like chickens, come home to roost," the KCNA statement read. "The U.S. is persistently clinging to the hostile policy toward [North Korea], misleading the public opinion. Such behavior may result in endangering the security of its own country."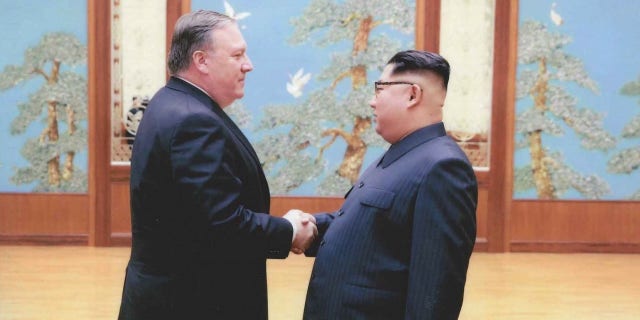 North Korea also urged the U.S. to "refrain from making words and acts that may destroy the hard-won atmosphere of dialogue."
The official date and location of the upcoming Trump-Kim summit has not been released, though Trump tweeted Wednesday those details have been sorted out. Pompeo — who made his second trip to North Korea already this year — said working with Kim Yong Chol, vice chairman of the central committee of North Korea's ruling party, has been essential in ensuring the summit is a success.
"For decades, we have been adversaries. Now we are hopeful that we can work together to resolve this conflict," Pompeo said.
Kim also said relations between the two Koreas have been improving, adding North Korea is focused on "economic progress." That would be a change from the last several years, in which Kim's government was obsessed with developing nuclear weapons and missiles that could deliver them to the United States.
Pompeo also pressed North Korea for the release of three detained American citizens, whose imminent release Trump and other administration officials had been hinting at for days. As Pompeo's plane got in the air, Trump tweeted the release of the trio had been secured and the men seemed to be "in good health."
The Associated Press contributed to this report.