No stranger to controversy, George Zimmerman tries to cash in on Confederate flag debate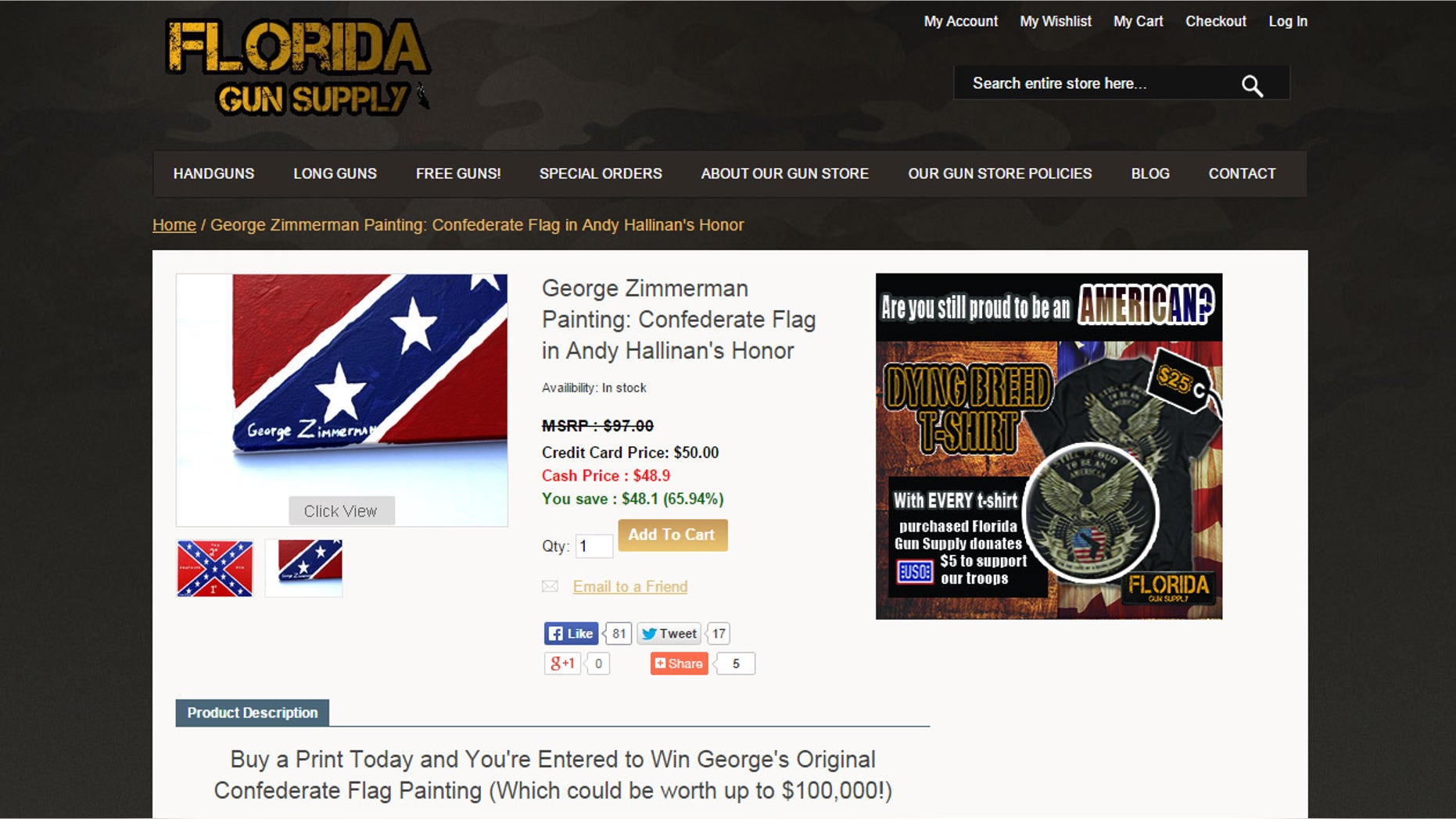 George Zimmerman, who has had repeated brushes with the law since he was acquitted in the shooting death of Trayvon Martin, has a new weapon of choice: a paintbrush.
The neighborhood watchman, who became a household name after the shooting sparked racial riots, unveiled his artwork on Monday. No stranger to controversy, Zimmerman decided to paint a symbol that has been in the news lately: the Confederate flag.
The painting, which has been signed and numbered by Zimmerman, shows the flag with the word "The 2nd Protects Our 1st," in reference to the first and second amendments in the U.S. constitution.
Zimmerman dedicated his latest artwork to the Florida Gun Supply owner Andy Hillinan, who banned Muslims from his shooting range last month.
"This painting was painted in honor of Andy Hallinan for being a true patriot and leading the country into a better, safer America," the painting's advertisement reads on Hallinan's website.
Zimmerman says on the website that the words on the flag have a double meaning.
"The first flag I painted on this canvas was an American Flag, but (I) decided to repaint over it with the Confederate Flag when I heard Andy was getting sued by (the Council on American-Islamic Relations.) The 2nd flag I painted was the Battle Flag which we need in America in order to protect the first," he wrote.
The Confederate Flag has been the subject of controversy after Dylann Roof, who killed nine African American in a South Carolina church in June, appeared with photos with the flag. Police have called the mass killing a hate crime. That prompted several states to remove the flag from Statehouse grounds.
But Zimmerman, already one of the most reviled men in America, decided to stand up for the flag, writing on his website that the Confederate Flag is not a racist symbol. Although, he noted, it has been used "by a small amount of people to incite racism."
"You cannot assume everyone who flies a Confederate Flag is a racist in the same way you cannot judge every Muslim to be a terrorist, or every gun owner to be a serial killer," Zimmerman added on the website.
According to a video posted on Hallinan's website, both men have become friends after Zimmerman called the shooting range owner to see if he could help.
"He said not only will I pray for you, but I'll be there in an hour," Hallinan recalled.
Zimmerman said he didn't want Hallinan to "give up the fight for financial reasons."
"I know that you're up against CAIR and various organizations. CAIR is suing you. They have endless resources. They have tons of money. I just wanted to do my part," he added in the video.
Several paintings of the Confederate flag are being listed for $50, or $49.90 if paid in cash. The original will be raffled off to one of the buyers at a later date.
Zimmerman and Hallinan will be splitting proceeds from any sales to support "their legal funds, living expenses, and advancing their mission to change the country." A percentage will also go to the Boys and Girls Club.
Zimmerman's painting of a blue American flag sold for a little more than $100,000 on eBay.
He also painted a photo Florida prosecutor Angela Corey, which led to legal threats over its resemblance to a copyrighted photo.