Nigeria Hezbollah suspects allege harsh Mossad grilling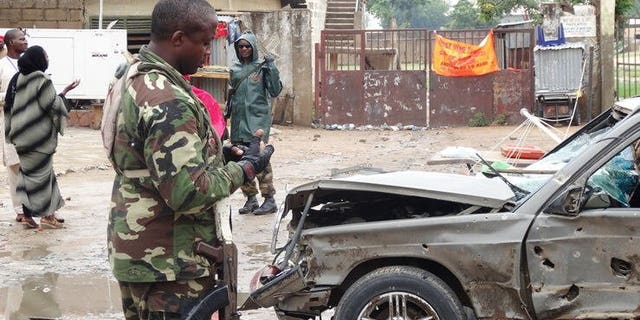 ABUJA (AFP) – Two Lebanese suspects alleged to be members of Hezbollah and on trial in Nigeria on terrorism charges told a court Monday they were harshly interrogated by Israeli agents after their arrests.
Mustapha Fawaz, Abdallah Thahini and Talal Ahmad Roda were arrested in May after the discovery of an arms cache in a residence in the northern Nigerian city of Kano.
They have been accused of plotting attacks against Western and Israeli targets in Nigeria and have denied the charges.
An Israeli embassy spokesman did not immediately respond to requests for comment.
Fawaz testified on Monday that, after his arrest in Abuja, a security official told him "some European friends" wanted to ask him questions.
"I was taken to an interrogation room where I met three Israeli Mossad agents," Fawaz told the court in response to questions by his lawyer.
Fawaz said one of the interrogators identified himself as a Mossad agent. He said they were "crude and nasty."
"They handcuffed my hands behind my back for days. I lost count because they did not allow me to sleep for several days," Fawaz said, denying membership in Hezbollah.
"They asked if I have any weapon in Abuja ... They asked if I have been asked to do any operation in Nigeria or anywhere else in the world," Fawaz said.
He said further: "During the 14 days of interrogation, I was interrogated by six Israeli Mossad agents and one masked white man.
"I was interrogated in Arabic. I asked to be interrogated in English, but they refused. Most of them are weak in English. They are not Europeans, but Israelis."
Fawaz said no Nigerian official was present during the sessions.
"They asked me about my link with Hezbollah, but they concentrated more on Lebanon -- whether I knew if there are weapons stored in the south of Lebanon or the identities of people who have been trained by Hezbollah," said Fawaz.
Thahini, who told the court he was no longer a member of Hezbollah, gave a similar account during his testimony.
He claimed to have collapsed after being denied sleep for five days by the foreign interrogators.
Thahini said it was easy for him to identify them as Israelis by their accents "because we are neighbours."
Both Fawaz and Thahini denied any knowledge of the arms cache discovered in Kano.
Justice Adeniyi Adetokunbo Ademola adjourned the case to September 30 after both the prosecutors and the defence closed their cases.
The three suspects are believed to own a supermarket and an amusement park in Abuja, but the businesses have been shuttered since the arrests.
A fourth suspect is said to be on the run.
Nigeria, Africa's most populous country, is home to a sizeable Lebanese population, including in the mainly Muslim north.
Israel has raised concerns over alleged efforts by Hezbollah members to plan attacks in west Africa.