New fights break out as Jewish settlement in West Bank is cleared
Protesters on Thursday hurled rocks and bleach at police officers moving in to finish the evacuation of a West Bank settlement that the Palestinians claimed as their own.
EU CHIEF SAYS BLOC CAPABLE OF CUTTING LIBYA MIGRANT ROUTE
The fights erupted around midday when Israeli police forces tried to enter a synagogue in Amona. It was the last structure to be evacuated, after police assessed it would be more of a challenge because negotiations with people in the area failed.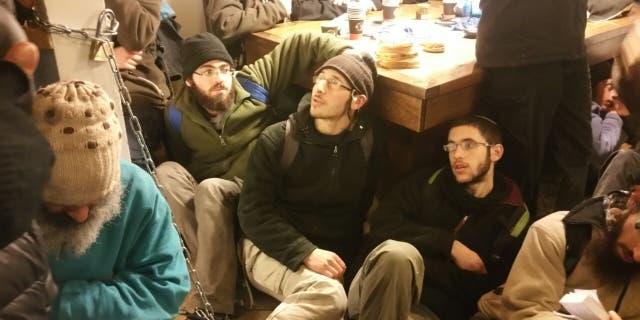 Most of the protesters who barricaded themselves inside the synagogue were young right-wing activists who traveled from outside Amona.

IN SOUTH SUDAN, WHEELCHAIR BASKETBALL DISTRACTS FROM WAR
Smoke rose from the synagogue as police officers breached the barricades. The officers were wearing protective glasses but no helmets.
The protesters also used pepper spray against the officers, Israeli police spokeswoman Merav Lapidot said. As many as 17 policemen were wounded.

ISRAELI FORCES NEARLY FINISHED EVACUATING WEST BANK OUTPOST
Home Front Defense Minister Gilad Erdan called the protesters "hooligans" who "show contempt to Judaism and have no respect to religion." Erdan said he "expects the police to act decisively" to evacuate them from the Synagogue.
The Jewish settlement of Amona, built on private Palestinian land, was ordered evacuated by the High Court of Justice in 2014, but dates for its evacuation were pushed to this month.
On some of the walls of the synagogue there were drawings of swastikas with messages targeting Israeli police, including "death to the policemen, you are going to hell."
Rabbi Yair Frank was the last of those barricaded in the synagogue. The police let him say a final prayer in the building before he was forced to depart.
"How can the state of Israel destroy a synagogue?" he asked. "The entire Jewish people should be crying on this day."
On Wednesday, Prime Minister Benjamin Netanyahu announced he would form a team to promote the establishment of a new settlement in the West Bank. The team would include representatives of the settlers and the prime minister's chief of staff, and was set to begin work immediately to find an appropriate site for the new settlement.
The last time Israel built a settlement was in 1992.
Political sources said the Prime Minister promised the settlers a month and a half ago that he would help them establish a new settlement as long as it was on state land.