New Archbishop of Canterbury enthroned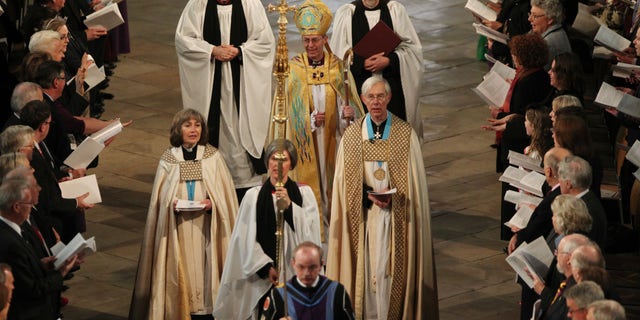 NEWYou can now listen to Fox News articles!
LONDON – The new archbishop of Canterbury was formally enthroned Thursday -- and questions about the Church of England's opposition to same-sex marriage greeted his promotion.
Justin Welby is the 105th Archbishop of Canterbury, serving as head of the Church of England and spiritual leader of the world's 77 million-strong Anglican Communion.
Welby was formally enthroned at the 900-year-old Canterbury Cathedral in southern England before politicians, including Prime Minister David Cameron and religious leaders. Prince Charles and his wife, Camilla, also attended.
Dressed in a cope, stole and a gold-colored silk mitre, Welby symbolically struck the cathedral's west door three times with the end of his staff to formally request admission to the cathedral.
As the doors opened slowly, a choir welcomed Welby with a psalm.
Earlier in the day, Welby talked to the BBC about some of the issues that have dogged his predecessors and led to deep divisions within the church.
He acknowledged that many gays have enduring relationships of "stunning" quality -- a fact he said that has "deeply challenged" his own views on gay marriage.
He also predicted in a Channel Five interview that there will be a female archbishop in the future despite the failure to pass legislation backing the idea last year.
From Rome, Pope Francis sent a message congratulating Welby and calling for a meeting in the near future.
"Please be assured of my prayers as you take up your new responsibilities," the pope said.