Netanyahu to Gaza Militants: Whoever Attacks Israel Is 'Risking His Life'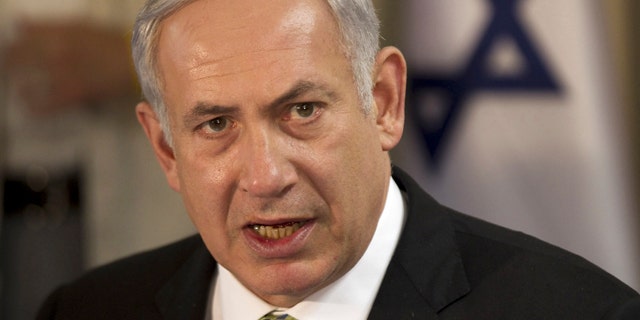 NEWYou can now listen to Fox News articles!
JERUSALEM – With rockets falling on southern Israel, Prime Minister Benjamin Netanyahu on Monday issued a tough warning to Palestinian militants in the Gaza Strip, saying that those who attack his country are risking their lives.
Netanyahu delivered the threat in a policy speech to Israel's parliament. He spoke shortly after his foreign minister urged Israel to go even further and topple the Islamic Hamas regime in Gaza.
The Israeli military has been battling rocket-firing Palestinian militant squads for several days. The fighting has killed at least 10 Palestinian militants and an Israeli civilian. It is the worst Israeli-Palestinian violence in months.
In his speech, Netanyahu vowed to act with "strength and determination" against the militants. "Whoever attacks Israel is risking his life," he said.
Despite Egyptian efforts to mediate a cease-fire, Palestinian rockets continued to strike Israel on Monday, including a pair of projectiles that exploded shortly after Netanyahu's speech. There were no reports of injuries or damage.
The Hamas militant group, which has killed hundreds of Israelis in past violence, has not been directly involved in the latest rocket fire. Israel says the group, which has ruled Gaza since overrunning the territory in 2007, is responsible for all attacks emanating from the territory.
Netanyahu's foreign minister, Avigdor Lieberman, told his Yisrael Beitenu Party on Monday that the government cannot tolerate the continued attacks. "Israel's goal should be to topple the Hamas regime in Gaza," he said.
In Gaza, Hamas officials condemned the Israeli threats.
"These remarks reflect the brutal attitude and mentality of the enemy leadership, which does not respect the calm and all the efforts that have been made in this regard," said Hamas spokesman Fawzi Barhoum.
He urged the international community to pressure Israel not to launch "any crazy adventure" in Gaza.
Despite the tough Israeli threats, removing Hamas would not be easy. Israeli defense officials say any such operation would take months and could involve heavy casualties.
Since seizing control of Gaza, Hamas has smuggled in a formidable arsenal of weapons that include rockets capable of striking deep inside Israel, as well as anti-tank and anti-aircraft weapons, according to Israeli assessments.