Navalny's spokeswoman sentenced to 5 days in custody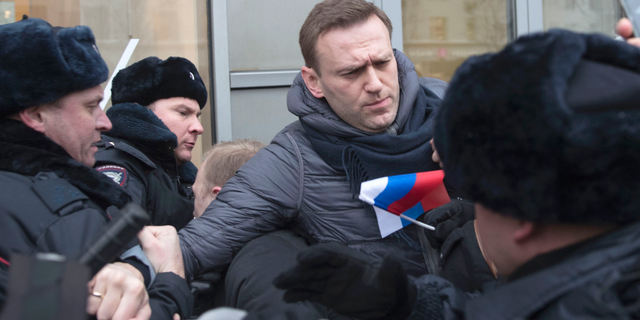 NEWYou can now listen to Fox News articles!
MOSCOW – A spokeswoman for Russian opposition leader Alexei Navalny has been sentenced to five days in jail for calling for an unsanctioned protest.
Tens of thousands took to the streets across Russia on Sunday to protest a decision to bar Navalny from running in the upcoming presidential election. Navalny's spokeswoman Kira Yarmysh and another Navalny associate were hosting a webcast of the protests from an undisclosed location abroad.
Yarmysh and the other host, Shaveddinov, were arrested Tuesday at a Moscow airport.
A Moscow court ruled late Wednesday that both were guilty of calling for unsanctioned protests when they re-tweeted Navalny's video. The judge said the tweets aimed to "create a negative image of one of the presidential candidates."
Yarmysh was sentenced to five days in custody, Shaveddinov to eight.