Navalny Moscow mayoral bid accepted ahead of verdict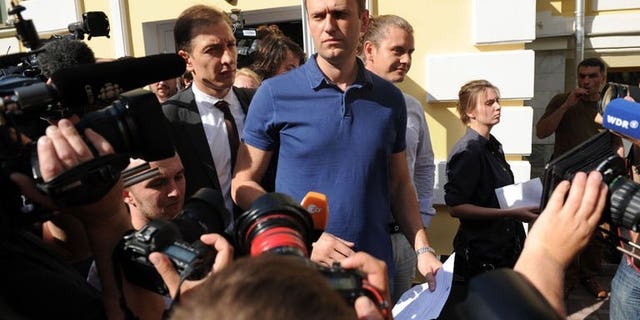 MOSCOW (AFP) – Moscow authorities on Wednesday accepted the candidacy of Russian protest leader Alexei Navalny to run in mayoral polls, a day before a verdict is due in his trial on fraud charges that could see him jailed for up to six years.
Navalny, who rose to prominence during unprecedented street protests against President Vladimir Putin that broke out in December 2011, is campaigning to run against current Moscow mayor Sergei Sobyanin in elections on September 8.
The 37-year-old father of two was registered as an official candidate in a unanimous vote by the Moscow Election Commission, in a move critics say is designed to give the Kremlin-controlled vote a veneer of propriety.
Election officials also registered the candidacy of another opposition figure, Sergei Mitrokhin -- leader of the liberal Yabloko party.
Many observers see the authorities' willingness to allow Putin's top critic to run as an ominous sign, saying Navalny would never have been allowed to campaign had he had any real chance at standing in the election.
Navalny himself said he expects to be convicted in his embezzlement trial, adding that the only question was whether he will be given a suspended term or sent to jail.
Prosecutors are seeking a six-year penal colony sentence and a fine of one million ruble ($30,000) for the opposition leader for conspiring to steal timber from the government of the Kirov region where he worked as an advisor.
Navalny, who also faces several other probes yet to come to court, said he wanted to spend the last hours before the verdict with his family.
"If your child is now five, and in six years he will be 11, then you will never again play with the five-year-old."
In a gesture typical of his uncompromising stance, Navalny this week published on his blog a detailed report accusing one of Putin's closest allies, the head of Russian Railways Vladimir Yakunin, of possessing a vast undeclared estate outside Moscow.
Even a suspended sentence would disqualify Navalny from running in the Moscow election. But his suspension from politics would come into force only after the appeal process is exhausted, not immediately after Thursday's verdict.
That means if he is jailed, he could theoretically continue his election campaign from behind bars until a final ruling is issued. He said however he would likely quit the race if he was jailed.
"If I am in custody then, of course, it will be a major question for us whether there is a need to continue the campaign as an officially registered candidate," he told mass-circulation daily Moskovsky Komsomolets in an interview.
An opinion poll by the independent Levada Centre said that loyal Kremlin lieutenant Sobyanin is set to retain the Moscow mayoral post with 78 percent of the vote with Navalny expected to come second on 8 percent.
But only 32 percent said they were aware Navalny had put himself forward as a candidate.
"We are living in a situation where even the most ridiculous scenario is possible," said analyst and blogger Alexander Morozov.
"Today Navalny will be registered as a mayoral candidate, tomorrow his verdict will be delivered as a result of which he will be removed from the elections," he said.
The analyst suggested that the court might choose to rule on Navalny's expected appeal on the eve of the polls, thereby officially eliminating him from the race at the last minute.
Navalny supporters in the sleepy city of Kirov 600 kilometres northeast of Moscow that will become the scene of Thursday's court ruling said they hoped Navalny would continue his mayoral campaign.
"I really hope that if he gets a prison term, the sentence will not enter into force until September 8 and Alexei will be able to take part," said activist Nikolai Lyaskin.
"It is possible his name will be on the ballot paper. We will see if they dare to jail a mayor."
Navalny supporters are calling on Russians to turn up for a protest near the Kremlin on Thursday evening.