NATO: No Immediate End to Libya Bombing Campaign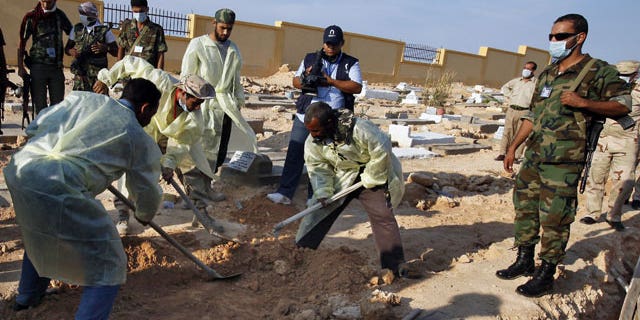 BRUSSELS – NATO's bombing campaign in Libya, now in its seventh month, will continue despite the collapse of Muammar Qaddafi's regime, alliance officials said Thursday.
French Defense Minister Gerard Longuet said the airstrikes will not cease until all remaining pockets of resistance are suppressed and the new government asks for them to end.
Although the former rebels now control most of Libya, some regions remain under control of pro-Qaddafi forces. These include Sirte on the Mediterranean coast, the city of Bani Walid and parts of the south.
"Sirte has an extremely symbolic value, but it's not all of Libya," Longuet said as he arrived for the second and final day of a conference of defense ministers of NATO nations. "There is pro-Qaddafi resistance in Bani Walid and dispersed resistance in the south of the country."
NATO has carried out more than 9,300 airstrikes against Qaddafi's forces since the campaign started in March. The military alliance has been criticized for allegedly overstepping U.N. Security Council resolution that created a no-fly zone and authorized the protection of civilians caught up in the fighting.
Discussions at the ministers' meeting have focused on Libya and Afghanistan, where NATO is in the process of extricating itself from a 10-year war against Taliban insurgents.
"This is an important moment for Afghanistan," NATO Secretary-General Anders Fogh Rasmussen said Thursday. "Transition is on track and it will not be derailed."
NATO and its partner nations have start drawing down their 140,000 troops and turning over security responsibilities to Afghanistan's army and police. The process is due to end in 2014, when foreign troops end their combat role.
Although outnumbered, the Taliban have mounted a series of high-profile attacks that have brought into question NATO's claim that it has the upper hand in the war and that the bloodshed is decreasing. The United Nations released a report last month saying the monthly level of violence in the country was significantly higher than in 2010.
"Strategic patience is needed," German defense minister Thomas de Maiziere said. "It is more complicated to climb down a tree then to climb up."
On Wednesday, ministers discussed plans to cooperate more closely and pool their resources in order to make up for the shortfalls that have plagued the alliance's operations in Libya and Afghanistan.
U.S. Defense Secretary Leon Panetta warned NATO allies that they should not rest on any laurels from the success of the ongoing military campaign in Libya, and that a cash-strapped America cannot always foot the bill when the alliance falls short.
The operation revealed embarrassing gaps in European military abilities that were mostly filled by the United States, and shortfalls in such basic supplies as ammunition.
In order to reduce dependence on the U.S., NATO wants to create its own system of air surveillance using U.S.-made Global Hawk unmanned aircraft. Member nations are also planning to beef up the alliance's strategic air transport and aerial refueling capabilities.
But it remains unclear whether these programs can be implemented at a time when defense budgets in Europe and the United States are being slashed as part of public spending cuts and other austerity measures designed to deal with the worsening economic crisis.
Also on Wednesday, the U.S. and Spain agreed to base Aegis Cruisers on Spain's coast, as part of the anti-ballistic missile defense system to protect Europe against a potential Iranian nuclear threat, officials said Wednesday.
Designed to protect Europe from a potential Iranian nuclear threat, the missile defense shield -- which will include ship-based systems, interceptors in Romania and Poland and radar in Turkey -- was approved by NATO last November.