NATO Confirms Its Planes Struck Libyan Rebels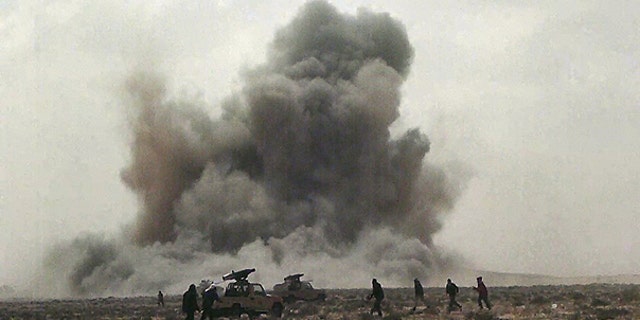 BRUSSELS -- NATO said Friday its airstrikes had hit rebels using tanks in their fight with the government forces in eastern Libya, but said it would not apologize for the deaths.
British Rear Adm. Russell Harding, the deputy commander of the NATO operation, said the military alliance had no previous information the rebels were operating tanks. In the past, only forces loyal to Muammar al-Qaddafi had used heavy armored vehicles, he said.
Harding says the situation between the eastern coastal towns of Brega and Ajdabiya remains fluid, with the opposing forces engaged in a series of advances and retreats, making it difficult for pilots to distinguish between them.
NATO jets attacked a rebel convoy between these two towns Thursday, killing at least five fighters and destroying or damaging a number of armored vehicles.
The strikes, including an attack earlier this week, provoked angry denunciations of NATO by the rebels. At the same time, NATO officials have expressed frustration with the insurgents, who now view the alliance, whose mandate is limited to protecting civilians, as their proxy air force.
Harding said Friday that NATO jets had conducted 318 sorties and struck 23 targets across Libya in the past 48 hours.
They had flown over 1,500 sorties in the eight days since the alliance assumed overall command from a U.S.-led force whose planes launched the first attacks on March 19.
NATO's jets have destroyed Qaddafi's anti-aircraft missile defenses, T-72 tanks and ammunition dumps, Harding said. The attacks also targeted loyalist forces in the besieged city of Misrata, where rebels continue to hold out.
But Qaddafi's forces still pose a danger for the warplanes. They retain radars and surface-to-air missiles, as well as automatic cannons and shoulder-launched missiles that can hit planes at altitudes up to 5,000 meters (15,000 feet).
"It would appear that two of our strikes yesterday may have resulted in (rebel) deaths," he told reporters in Naples where the alliance's operational center is located.
"I am not apologizing," Harding said. "The situation on the ground was and remains extremely fluid, and until yesterday we did not have information that (rebel) forces are using tanks."
Over the past week, Qaddafi's forces had switched tactics by leaving their heavy armor behind and using only light trucks armed with heavy machine guns and fast-firing anti-aircraft cannons on the front lines between Brega and Ajdabiya. These have proven very effective in disrupting repeated rebel attempts to push west toward Tripoli, but Qaddafi's forces have not been able to drive the rebels back toward Benghazi or establish a solid front line in that sector.
"These trucks cannot hold ground," Harding said. "When you see their tanks coming up, those are the vehicles that can cause the greatest harm to civilians."
On Thursday, the situation in that sector "was very confusing, vehicles going back and forth," he said.