Myanmar official meets Rohingya refugees in Bangladesh camp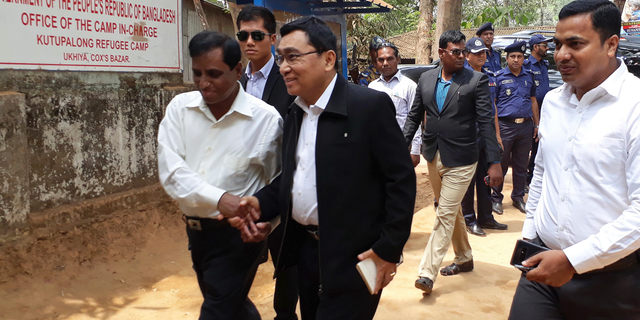 DHAKA, Bangladesh – A Myanmar Cabinet minister has visited a sprawling refugee camp in Bangladesh for Rohingya Muslims, who told him of the violence that forced them to flee Myanmar and presented a list of demands for their repatriation.
A Rohingya leader, Abdur Rahim, said at least eight women rape victims were among about 40 refugees who met Wednesday with Social Welfare Minister Win Myat Aye at the Kutupalong camp in Cox's Bazar.
Rahim said they presented 13 demands for the government to meet for their return to Myanmar.
Bangladesh refugee commissioner Abul Kalam said the minister listened to the refugees and replied to their questions.
About 700,000 Rohingya Muslims have fled army-led violence in Buddhist-majority Myanmar since last August. The two countries have agreed to begin repatriations.