Myanmar monks urge peace on uprising anniversary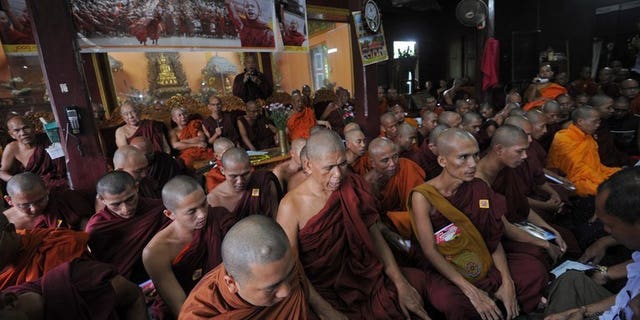 YANGON (AFP) – Senior monks who led Myanmar's "Saffron Revolution" appealed Wednesday for an end to religious violence in the former junta-ruled nation as they marked the sixth anniversary of the failed uprising.
"The path to democracy has just appeared. In order not to ruin it, we urge you to avoid ethnic and religious violence," senior cleric Sandar Siri said in a speech to about 100 monks and guests at a monastery in Yangon.
Religious violence -- mostly targeting Muslims -- has exposed deep rifts in Buddhist-majority Myanmar, casting a shadow over widely praised political reforms since military rule ended in 2011.
Around 250 people have been killed and more than 140,000 left homeless in several outbreaks of violence since June 2012.
Minority Muslims have also been the target of a nationalistic campaign led by some radical monks.
At least 31 people were killed and hundreds of monks were arrested in the 2007 uprising, which started as a protest against high fuel prices but snowballed into the biggest threat to Myanmar's former military rulers for nearly 20 years.
After sweeping changes under the reformist government of ex-general President Thein Sein, last year monks held the first rally to mark the protest anniversary.
"When we look at the situation in politics, the economy, social issues, education, health and in general, it is not true to say that nothing is changing... But there is no change that improves the lives of the people," Sandar Siri said.
He also called for a formal apology from the government for the bloody crackdown on the 2007 protests, which saw tens of thousands of monks take to the streets in their striking red robes.