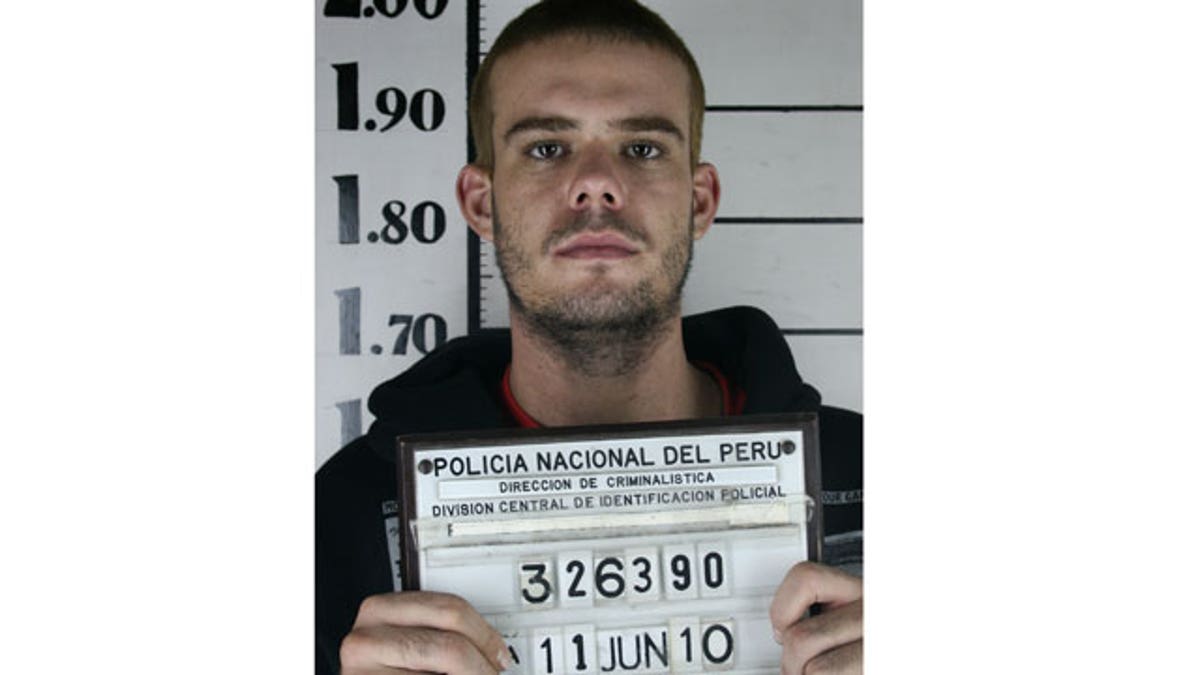 LIMA, Peru – LIMA, Peru (AP) — A prison compound on the dusty outskirts of Peru's capital is home to hundreds of convicts from Peru's leftist insurgency of the 1980s and 90s.
It holds more than 80 foreign inmates, mostly Colombians and Mexicans there for drug-related crimes.
And then there is Joran van der Sloot.
The 22-year-old Dutch murder suspect in the May 30 killing of 21-year-old Lima student Stephany Flores is passing the time watching television and exercising in a secluded section of the Miguel Castro Castro prison.
The Rev. Hector Allende, a former bank robber turned evangelical who ministers to the prison population, says other inmates are intrigued by the celebrity defendant in their midst.
But almost none can catch a glimpse of Van del Sloot, the lone suspect in the disappearance five years ago in Aruba of U.S. teen Natalee Holloway.
Van der Sloot doesn't mix with the regular population at the high-security lockup, a giant octagonal compound in the desert that holds 1,500 inmates.
The Dutchman has a cell of his own adjoining that of a reputed Colombian hit man in a nearly empty block.
The prison-mates share a TV set — the Colombian's property — and barbells fashioned from a broomstick and water-filled plastic bottles.
On Monday, a judge is scheduled to begin questioning Van der Sloot in private about the slaying of Flores, the daughter of a circus impresario and former race car driver.
He could serve between 15 and 35 years in prison if convicted of first-degree murder in the beating and strangling of Flores, which occurred at his Lima hotel room.
Peruvian prisons director Ruben Rodriguez told The Associated Press there is no way other inmates can get near Van der Sloot.
His 2-by-3.5 meter (6-by-11 foot) cell faces the warden's office.
"He told me he feared for his life," Rodriguez said. "If he asks to go elsewhere with the rest, he'll go with the rest."
Rodriguez says Van der Sloot has not received phone calls from relatives, though a Dutch Embassy official came.
As for food, Van de Sloot gets the same basic meals as every other inmate, Rodriguez said. The day of his arrival, "seco de pollo" — a traditional Peruvian chicken and cilantro dish — was served.
The Miguel Castro Castro prison — named after the warden of another prison slain by leftist Shining Path rebels in 1985 — is segregated according to the severity of prisoners' crimes, and convicts live with those awaiting trial.
Criminologist Jose Luis Perez said inmates are restricted to their buildings and may not freely circulate, unlike at many other Peruvian prisons.
The prison is relatively peaceful and mafia-free, he said.
The prison's previous director, however, was gunned down outside his home in November in a crime police say may have been revenge for discipline he'd exacted on some inmates.
Three inmates died here in a 2008 brawl.
And the prison was the site of 1992 massacre of inmates when the government attempted to transfer a group of convicted Shining Path rebels to another prison. According to a 2003 report by a truth commission on Peru's brutal conflict, 42 inmates were killed by state agents.
Ricardo La Serna, a Roman Catholic human rights activist who works in prisons, said the Miguel Castro Castro prison of today is a more peaceful place, with some 30 inmates involved in distance learning.
"Some are studying law, others accounting, others administration," he said.
___
Associated Press Writer Franklin Briceno contributed to this report.