Murder probe launched in disappearance of American student in Siberia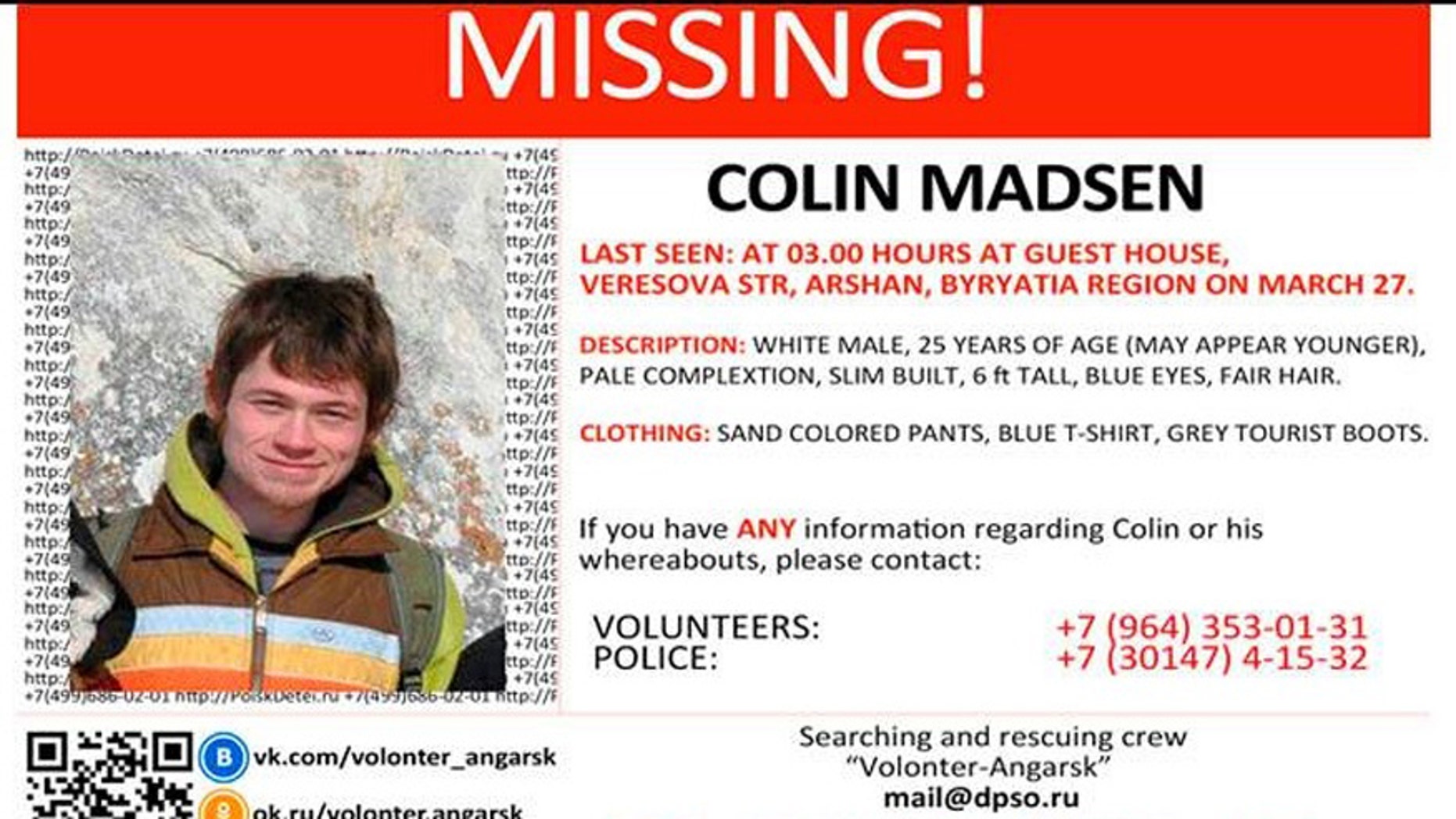 Russian authorities have launched a murder probe in the search for a missing American student who officials say disappeared in below-freezing conditions after venturing out before dawn from a guest house in a mountainous region of Siberia.
Colin Madsen, 25, of Jefferson County, Mo., disappeared early Sunday, investigators in the Russian republic of Buryatia said. Madsen arrived with another American student Saturday as part of a group from Irkutsk, where he was a university student.
According to regional media outlets, Madsen vanished from the resort village of Arshan. The tiny town is known for its mineral springs and mountainous vistas.
The Investigative Committee, Russia's federal investigative agency, said in a statement that Madsen and his group planned to hike the mountains Sunday, but Madsen "under unclear circumstance" vanished "without a trace" as others in the guest house slept.
The Siberian Times reported Friday that a murder probe has been launched in the case. According to the newspaper, the Investigative Committee -- considered the equivalent of the FBI - in the Republic of Buryatia released a statement, saying, "During the preliminary check, we have not confirmed that the missing young man was about to leave the resort village and his friends."
"These and other established facts indicate that a crime may have been committed against him," the statement said. "Therefore, Tunkinsky Interdistrict Investigation Department of the Investigative Committee in the Republic of Buryatia opened a criminal case on the grounds of a crime."
Madsen reportedly left all of his belongings, including a cellphone, inside the house.
Annie Madsen of Markle, Ind., said Wednesday that her nephew, who she said is fluent in Russian and has taught English in Russia, apparently left the house without a coat to take a walk.
"He has a lot of friends concerned about him," Annie Madsen told The Associated Press about the nephew she called "a responsible young man."
"I can't see him just getting up in the middle of the night and going for a walk in freezing conditions without a coat," she said. "I don't know what was going on."
Colin Madsen's mother, from Missouri, and father, from Indiana, traveled Wednesday to Russia to be closer to the search, his aunt said.
Madsen had been enrolled as a university student in Russia since the fall. The village from which he disappeared is located about 130 miles from Irkutsk.
Madsen's friends, meanwhile, have taken to social media to express their concern and circulate the young man's image.
"He is one of the kindest, most gentle people I have ever met, always open to the opportunity to help people in whatever situation they are in, above and beyond the average person," wrote Kephen Merancis, one of Madsen's Facebook friends.
"If there was ever someone you wanted as a friend, it would be Colin," Merancis said.
FoxNews.com's Cristina Corbin and The Associated Press contributed to this report.