Multiple car bomb explosions in Iraq kill at least 21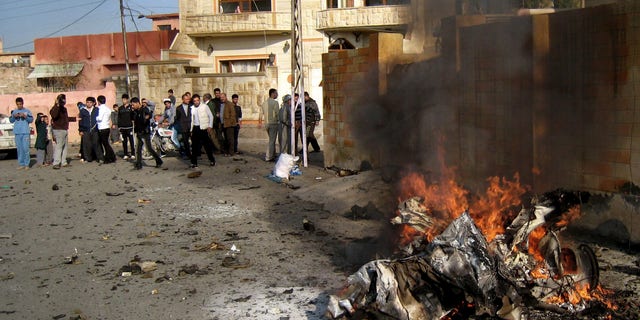 BAGHDAD – Insurgents launched attacks against security forces and civilians in central and northern Iraq on Tuesday, killing at least 21 people and wounding dozens, officials said.
Shiite mosques in Baghdad were main targets, along with a city claimed by squabbling ethnic groups in a disputed northern region. The conflicts threaten the stability of Iraq following the final pullout of U.S. military forces nearly a year ago.
Car bombs exploded near three mosques shortly after nightfall in the capital, killing 12. Police and hospital officials said the first exploded near a Shiite mosque following evening prayers in Hurriya neighborhood, killing six worshippers and wounding 20 others. Minutes later, another car bomb went off near Gaereat mosque, killing three people.
Later, police said a third car bomb exploded, killing three Shiite worshippers and wounded 14 others in Shulla neighborhood in northern Baghdad.
Ali Habib, a taxi driver, said he was driving near the Shiite mosque in Hurriya when he heard a loud explosion. He rushed to the blast site and helped take wounded to the hospital.
"The scene was horrific, with people screaming for help," he said. "Such attacks bring back memories of the darkest days of sectarian strife that took place several years ago in Iraq."
In the north, a police officer said three bombs in parked cars exploded simultaneously in the oil-rich city of Kirkuk, the largest city in the area claimed by several ethnic groups in a dispute with the central government in Baghdad.
The bombs hit two Kurdish residential areas in the center of the city. One went off near a main Kurdish party headquarters. Five people, including a Kurdish security guard, were killed and 58 others wounded, he said.
A few minutes later, two bombs exploded in a market in the Sunni-dominated town of Hawija west of Kirkuk, killing two civilians and wounding five others, he said. Also, five Iraqi army soldiers were wounded when militants detonated bombs near their houses in the nearby town of Tuz Khortmato.
Kirkuk, 180 miles north of Baghdad, is home to a mix of Arabs, Kurds and Turkomen, who all have competing claims to the oil-rich area. The Kurds want to incorporate it into their self-ruled region in Iraq's north, but Arabs and Turkomen are opposed.
Violence has ebbed since the peak of insurgency several years ago, but lethal attacks still occur frequently. No one claimed responsibility for Tuesday's attacks, but car bombs, shootings and roadside devices are the hallmark of Al Qaeda in Iraq.
In the northeastern province of Diyala, gunmen in speeding car showered a check point manned by Sahwa, an anti-Al-Qaeda group, killing one and wounding two others, another police official said. The Sahwa are Sunni Arabs who joined forces with U.S. military to fight Al Qaeda at the height of Iraq's insurgency. They have since been favorite targets for Sunni insurgents who consider them as traitors.
Also in Diyala, a roadside bomb targeted a passing police patrol in the town of Khan Bani Saad, killing a civilian bystander and wounding two policemen, the officer said. The town is about 20 miles north of Baghdad.
In the northern city of Mosul, a parked car bomb went off near a house of a Sunni lawmaker, wounding five bystanders. The lawmaker, a woman, was unharmed, another police officer said. Mosul is 225 miles northwest of Baghdad.
Five other civilians were wounded when a roadside bomb exploded near an Iraqi military base in the town of Taji, 12 miles north of Baghdad, a police officer said.
Three health officials confirmed the causality figures. All officials spoke on condition of anonymity as they were not authorized to release information.