MSNBC Morning Show Apologizes For 'Sarcastic' Cinco De Mayo Segment That Offended Latinos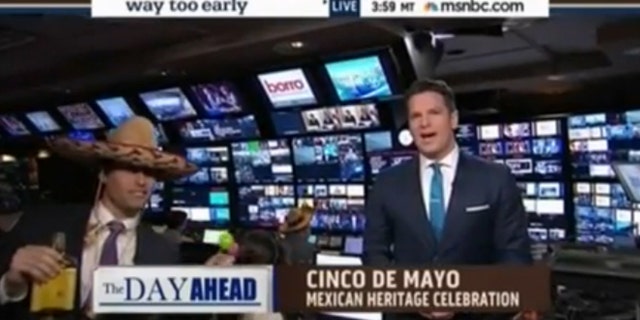 It's been a tough Cinco de Mayo season for non-Hispanic Americans across the United States.
At colleges from one coast to the other, the plug was pulled on fiestas for treating the holiday, a more sober affair in Mexico, as it has been traditionally celebrated north of the border: As an opportunity to drink Margaritas and shake one's maracas.
Did we mention drink Margaritas?
One would expect that the English-language media, in the process of getting used to the idea that U.S. Latinos are a powerful and influential segment of their potential audience, would tread a bit more carefully.
Not, apparently, if you're Good Morning America's Lara Spencer, who announced with much zeal on Monday morning that it was, "Cinco de drinko!"
And Thomas Roberts and "Way Too Early," the MSNBC pre-"Morning Joe" offering, pulled out all the stops.
As Roberts described the history of the holiday and the Battle of Puebla on Monday, a producer named Louis Burgdorf stumbled from one side of the stage to another, wearing a sombrero and taking slugs out of a bottle of tequila.
"You have to drink the whole thing and eat the worm," Roberts said.
Well that didn't sit so well with National Association of Hispanic Journalists president, Hugo Balta, who issued a statement Tuesday morning saying, "This is simply the worst example I have seen of a discriminatory stereotypical portrayal of any community by any media. The fact that this was done by a news organization is abominable."
Balta went on to point out that, "This was a planned segment where many decision makers at MSNBC's 'Way Too Early' program agreed on the content and execution which concluded on what was seen nationwide… The segment clearly proves that diversity is lacking at the 'Way Too Early' program. Too often mistakes like these are made because the people making them are not representative of the community the content portrays."
Balta later claimed on his Facebook page that the show's executive producer, Alex Korson, had called to apologize for the segment, adding that the people responsible would be disciplined.
On Tuesday afternoon, 'Way Too Early' posted an apology on its website that read, "On Monday, Cinco De Mayo, 'Way Too Early' made sarcastic references to the way some Americans celebrate the holiday. It was not our intention to be disrespectful and we sincerely apologize for the ill-advised references."
On Wednesday morning, both Roberts and his producer apologized on air.
"It was not our intention to be disrespectful, and we sincerely apologize," Roberts said. "To those I let down, or feel betrayed, I hear you and I'm sorry."
Alex Nogales, the President and CEO of the National Hispanic Media Coalition, told Fox News Latino, "People are just learning about this holiday, and I don't have a problem with a person wearing a hat and acting silly, but this is constantly being presented as one big drunken party."
Nogales said that an apology was a good initial step but pointed out that the producers also need "to get into a dialogue about how to prevent other slips—and they have to hire Latino producers and talent so that the show really do reflect the this country."
Otherwise, he suggested, "The next time something stupid happens, organizations like mine will take more drastic actions. Latinos are 17 percent of the U.S. population. You would think that they would be a lot more cognizant of where the money is coming from."
Follow us on twitter.com/foxnewslatino
Like us at facebook.com/foxnewslatino