MS-13 gang members deported to El Salvador to face homicide charges, officials say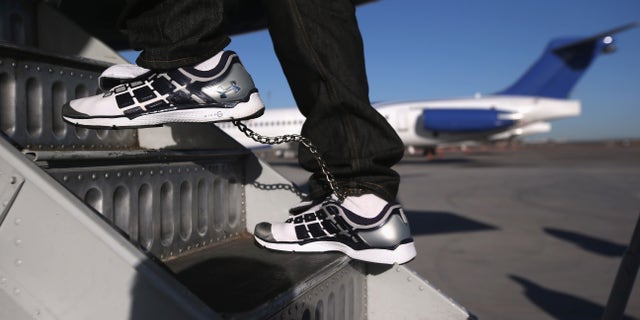 NEWYou can now listen to Fox News articles!
LOS ANGELES (AP) – Immigration officials say two MS-13 gang members have been deported from Los Angeles to face homicide charges in El Salvador.
U.S. Immigration and Customs Enforcement officers transferred Gerson Adiel Segovia Alvarado and Nilson De Jesus Lozano Hernandez to Interpol custody on arrival Wednesday in El Salvador.
Officers received a tip from the Los Angeles Police Department that Segovia Alvarado was in the area and wanted for aggravated homicide in El Salvador. According to authorities, Segovia Alvarado and two other men beat a man to death with a baseball bat.
Lozano Hernandez has been charged with aggravated homicide in a separate case involving a rival gang.
Both men illegally entered the United States after their alleged crimes.