Mother Of Kidnapped Georgia Girl Has Drug Connection With Suspect, Report Says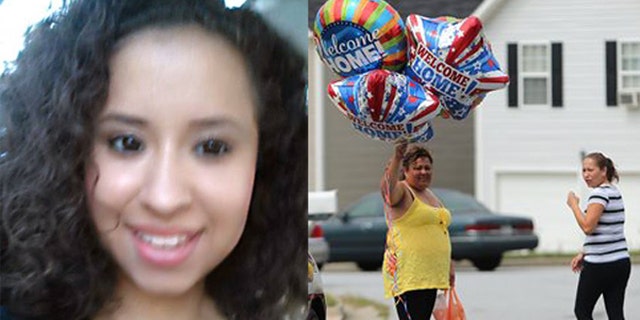 JONESBORO, Ga. – The mother of a kidnapped 14-year-old Georgia girl found alive Wednesday was arrested in February 2012 on drug charges with one of the men accused of abducting her daughter, U.S. Immigration and Customs Enforcement said.
Police found Ayvani Hope Perez in a home in Conyers, Ga., about 36 hours after police said she was taken at gunpoint from her family's home early Tuesday. Two suspects were arrested but police are still looking for two others.
In a strange twist, ICE sources confirmed with local affiliate FOX News 5, Perez's mother, Maria Corral, was busted in a marijuana sting with four other people – including Juan Alberto Contreras-Ramirez, a 40-year-old Mexican national arrested as a suspect in her daughter's kidnapping.
ICE officials confirmed that Contreras-Ramirez was arrested as Juan Alberto Contreras-Rodriguez. They did not indicate why he changed his name.
About 500 pounds of marijuana were seized in the 2012 drug bust, according to the Atlanta Journal-Constitution. Corral was never indicted and the charges against her were eventually dismissed.
The charges against Contreras-Ramirez were dismissed last January after a search of the home where the drugs were found was ruled unconstitutional because authorities did not have a warrant, the AJC reported.
"We have not determined the relationship between those individuals at this particular point in time," FBI Special Agent Rick Maxwell told FOX 5. "We have not determined the motive for this at this point."
A joint investigation by U.S. Homeland Security Investigations, the FBI, Clayton County Police Department, and the Georgia Bureau of Investigation led to the arrests of Wildrego Jackson, 29, and Rodriguez as suspects.
Jackson is being held on charges of conspiracy to commit kidnapping and Contreras-Ramirez is being held on immigration-related charges.
Jackson spent time in state prison on several drug convictions, aggravated stalking and theft.
"She's in good health, she's being evaluated as we speak," Clayton County Police Chief Gregory Porter said Wednesday.
Two men pried open a back door of the home in the Ellenwood area around 2:15 a.m. Tuesday, demanding items. Authorities have said the home invasion was random.
"It didn't appear that they knew each other," he said of the suspects and victims. "They just moved in about a month ago."
Ayvani's mother had her daughter and her 15-year-old son hiding inside the home, but the intruders were able to find them, police said in a statement. The men abducted Ayvani with no explanation, police said.
The family reportedly tried to raise $10,000 in ransom so the girl could be returned to them
The crime happened on a cul-de-sac in Ellenwood, a small community about 10 miles southeast of Atlanta, police said. The neighborhood is on the northern edge of Clayton County, just south of the DeKalb County line.
Follow us on twitter.com/foxnewslatino
Like us at facebook.com/foxnewslatino