'MOAB' aftermath: Fox News tours site where Afghanistan bomb was dropped
Credit: TOLO News
Taken just ten days after the strategically targeted explosion to destroy both ISIS fighters and their underground tunnel system in Eastern Afghanistan's Achin District of Nanganhar province, the footage - obtained by Fox News COURTESY TOLO NEWS in Afghanistan - offers a glimpse into the destruction waged by the weapon.
With lush sprawling green meadows and grazing cattle surrounded by snow-capped mountains, the scene could be any idyllic spring countryside. But look a little closer and the scorched trees signal something far from idyllic, the results of detonating the largest non-nuclear bomb the U.S has ever used in combat.
"Scores of houses were destroyed, and even parts of the mountain were, too."
Photos obtained by Fox News in Afghanistan taken less than two weeks after the strategically targeted explosion of the Massive Ordnance Air Blast (MOAB) bomb to destroy ISIS fighters and their underground tunnels in Eastern Afghanistan's Achin district of Nanganhar province show just how devastating the munition is.
"The war is still going on near the site," Karim Amini, a local TOLO News journalist who toured the site, told Fox News. "[The destruction] was wide, but how deep the MOAB went was not clear as it dived into the earth and blew out the tunnels which you can't see."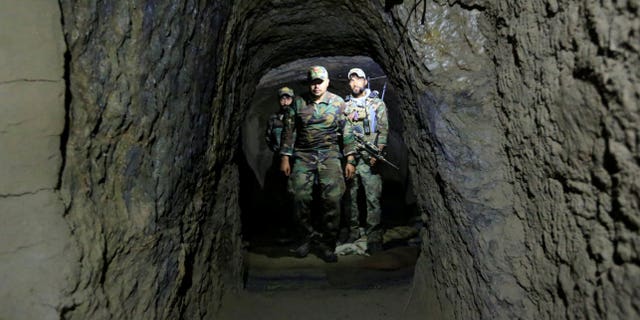 To make it to within half a mile from where the so-called Mother of All Bombs hit, as close as one can get without risking an ISIS attack, one must take a curling, rubble-covered road under the iron-clad escort of elite Afghan forces into a sleepy area once ruled by the Afghanistan chapter of Islamic State, which calls itself ISIS-K, in reference to Khorosan.
From there, what was left after the MOAB detonated is vivid -- skeletons of burned cars, houses holed and guttered. Inside one ISIS cave on the periphery of the bomb blast, a bed frame and prayer mat can be seen crumpled on the floor. An iron cage stands beside it, a cage believed to have been used to hold and torture prisoners captured by the brutal terrorist faction.
The interior of a concrete house largely crushed by the MOAB's impact still has graffiti written in Pashto on its walls, cautioning government soldiers to "surrender to us," declaring the Afghan government "the enemy" as well as its infamous global slogan "long live Islamic State."
Moving closer to the site, with a coalition C-130 military aircraft above, one can see large trees ripped by their roots and body parts of dead fighters strewn across the decimated landscape.
"There were tunnels that were entirely destroyed, decimated guns of ISIS, about 20 dead bodies and trees ripped from the earth," Amini recalled, after having gone into areas of Achin without escort. "Scores of houses were also destroyed, and even parts of the mountain were, too."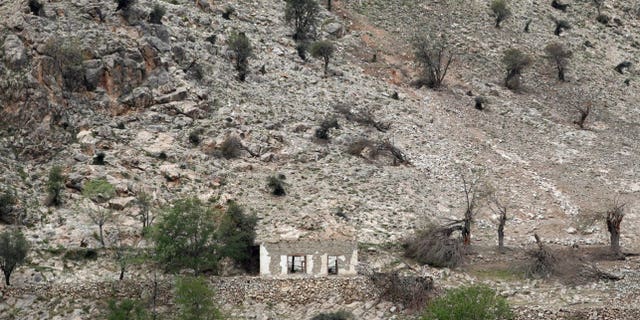 According to one Afghan special forces soldier, the MOAB is just the beginning -- the operation is ongoing, and they intend to "clean up right to the (Pakistan) border line."
Several Afghan people residing near the MOAB explosion voiced their appreciation for the drop, saying the black-clad militants tortured their community. But these Afghanis stressed the fear they felt when the bomb detonated -- from the earth moving to children temporarily losing their hearing.
"The people were happy, but only on one condition: that ISIS die and that they disappear from that site as well as their district. Otherwise it is not of benefit to them," Amini said. "Now they want the 'father of all bombs' to be dropped and ISIS annihilated."
Multiple Afghanistan military and government officials told Fox News that there simply was no other solution but to opt for the MOAB, as the vast array of planted landmines was making it next to impossible to effectively clear ISIS from the area without enduring severe soldier casualties.
"This bomb was a good thing. It destroyed everything. ISIS can't use that area anymore, so that is the success," said Maj. Abadullah Karimi, spokesperson for the 202nd Shamshad Police Corps, which is operating in those ISIS-infiltrated areas of Nangahar Province.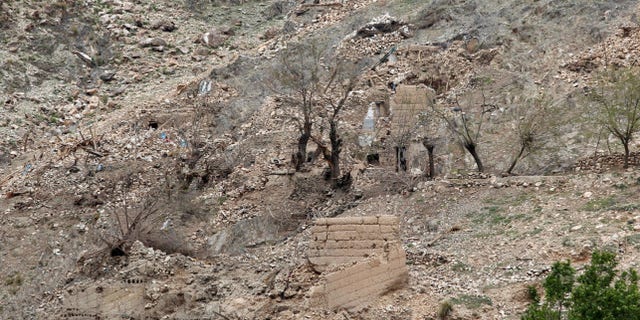 And while many have expressed enthusiasm, some are outraged.
"This was truly inappropriate. The U.S. was just using Afghanistan as grounds to send a message to North Korea, Russia, trying to threaten them," Mohamad Omer Safi, former provincial governor of Kunduz and head of the U.N. Security Office-Afghanistan, told Fox News. He insisted that less than 2.5 miles behind the bombed area are more strategic ISIS locations, including caves and leadership headquarters. "Right near there is the ISIS capital. Why wasn't that targeted?"