Mitt Romney Spain Jab Adds to Foreign Policy Woes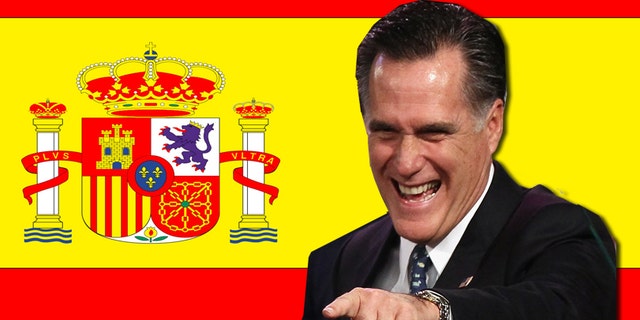 Washington – It has become apparent to some that Mitt Romney is in need of a crash course in Diplomacy 101.
He irritated Britons and Palestinians during a summer tour abroad and has declared Russia to be America's No. 1 geopolitical foe. Just last week, the Republican candidate, who plans a foreign policy speech Monday, raised eyebrows in Spain by holding it up as a prime example of government spending run amok.
That left Spaniards confused, and threatened to reinforce Romney's perceived handicap in international affairs, precisely at a time when lingering questions over the Sept. 11 attacks against the U.S. Consulate in Benghazi, Libya, has President Barack Obama on the defensive.
"I don't want to go down the path of Spain," Romney said Wednesday night during the first presidential debate. He argued that government spending under Obama has reached 42 percent of the U.S. economy, a figure comparable with America's NATO ally. "I want to go down the path of growth that puts Americans to work."
The remark was Romney's latest to cause international offense during a campaign that much of the world is closely monitoring.
The sensitivity reflects a wide understanding that Romney could prevail over President Barack Obama and take over as leader of the world's top military, economic and diplomatic power. If Romney becomes commander in chief, he could face a testy beginning with Europe's economic laggards such as Greece, Italy and Spain, whom he has beaten up regularly throughout the campaign.
No one contests that Spain's situation is dire, its economy in deep recession and unemployment hovering around 25 percent. But Spain's level of government spending is actually low by European standards, and significantly less than Germany and Scandinavian countries with far healthier economic prospects. Spain's woes were chiefly caused by the collapse of a property bubble that had fueled more than a decade of booming economic growth.
Spanish reaction to Romney was swift.
"What I see is ignorance of what is reality, but especially of the potential of the Spanish economy," said Deputy Prime Minister Soraya Saenz de Santamaria.
Maria Dolores Cospedal, leader of Spanish Prime Minister Mariano Rajoy's Popular Party, noted that "Spain is not on fire from all sides like some on the outside have suggested." Foreign Minister Jose Manuel Garcia Margallo called it "very unfortunate that other countries should be put up as examples" when the facts are skewed.
The criticism comes at an inopportune time for Romney. Obama has consistently outscored his challenger in polls asking about national security leadership, but the administration is struggling to deal with last month's attack on the consulate. Four Americans died, including the first ambassador killed in the line of duty in more than three decades.
When you have a party or politician that has not been in power nationally for a while, there is a learning curve.
Romney will have a chance to fully articulate his vision of America's role in world affairs when gives his address Monday at the Virginia Military Institute. But the furor in Spain, however minor, instead serves as a reminder of Romney's record of diplomatic stumbles, such as calling Russia — not Iran or China, for example — America's primary global adversary in March.
Russian President Vladimir Putin has since pointed to Romney's comment as justification for Russia's opposition to America's missile defense plans in Europe, saying the statement has "strengthened Russia's positions in talks on this important and sensitive subject."
Then on a July trip to Europe and Israel meant to burnish Romney's foreign policy credentials, the candidate criticized Britain over its preparations for the London Olympic Games. The comment baffled America's closest ally, drawing withering retorts from the British press, the Conservative prime minister and London's right-wing mayor. He also cited a private meeting with Britain's spy service MI6, in a significant breach of protocol.
In Israel, he followed up by declaring Jerusalem the capital of the Jewish state, which U.S. administrations have refused to accept for decades given Palestinian claims to the ancient city.
At a gathering of mostly American Jewish donors, Romney implied that Israel was more advanced than the Palestinians because of cultural superiority. The comment drew a charge of racism from the Palestinians' chief peace negotiator, with whom the U.S. has been working to reach a two-state peace deal with Israel and counter the threat posed by Hamas, the Palestinian militant group that rejects Israel's existence.
The comments in some ways reflect the demands of a presidential campaign and the thousands of speeches, fundraisers and public appearances each candidate must make.
Obama, too, has made mistakes. He was forced to apologize to Poland's president in June after using the expression "Polish death camp" in reference to an extermination center operated by Nazi Germany on Polish soil during World War II.
Romney's Spain quip might play well with Americans closely split on the election, who've heard from both candidates about the perils of economic contagion from Europe's debt crisis. It also was meant as a reminder of the $16 trillion U.S. debt that Obama presides over.
But even if it barely registered in a debate that most observers credited Romney with winning, the comparison may do damage. By singling out Spain, Romney ruffled feathers in a country he will probably need to call on for assistance if he becomes president. Spain has almost 1,500 troops in Afghanistan. It contributed fighter jets, refueling planes and naval vessels to the U.S.-led NATO mission that ousted Libya's Moammar Gadhafi from power.
"When you have a party or politician that has not been in power nationally for a while, there is a learning curve," said Frances G. Burwell, director of transatlantic relations at the Atlantic Council. "Europe has changed rapidly in terms of its governance rapidly. It's a very diverse place. But I'm sure a Romney administration would quickly get up to speed on this."
Burwell didn't see Romney's slighting of Spain or other European countries significantly straining ties or complicating tough questions on the horizon for any U.S. president, such as troop deployments in Afghanistan. But she said his critique of Spain's government spending level was somewhat strange considering the Madrid government is assertively cutting expenditures to avoid a European bailout and the high levels of American debt.
Added Heather Conley, European director at the Center for Strategic and International Studies: "Europeans ask the U.S., 'What about you?' This isn't helpful to either side of the transatlantic relationship."
Based on reporting by the Associated Press.
Follow us on twitter.com/foxnewslatino
Like us at facebook.com/foxnewslatino