Minuteman founder accuses judge of bias because jurist is active in Latino issues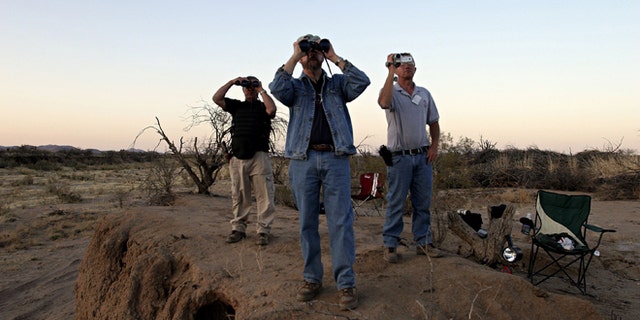 PHOENIX (AP) – A founder of the Minuteman border-watch movement failed Thursday to get a new judge appointed for his upcoming trial on charges that he sexually abused two young girls.
Christopher Allen Simcox, 54, argued that Maricopa County Superior Court Judge Jose Padilla is biased and shouldn't preside at his trial that's scheduled to begin Tuesday because he believes the judge is a member of two Hispanic civil rights organizations and tries to help people who are in the country illegally.
"It's politically opposite of what I believe in," Simcox said.
Judge Joseph Welty, who rejected the request for a new judge, said no evidence was presented to show that Padilla had a bias or couldn't be fair to Simcox.
Later on Thursday, after Welty had ruled that Padilla would remain on the case, Padilla made a decision in Simcox's favor. The judge ruled that Simcox, who isn't an attorney but is representing himself at trial, can question two girls he is charged with sexually abusing. Authorities say the two victims were 5 and 6 years old at the time of the crimes.
Simcox, who has been jailed since his June 2013 arrest, maintains that he is innocent.
The movement that Simcox helped found had stepped into the spotlight in 2005 as illegal immigration heated up as a national political issue and Minuteman volunteers fanned out along the nation's southern border to watch for illegal crossings and report them to federal agents.
But the movement splintered after Simcox and co-founder Jim Gilchrist parted ways and headed up separate groups.
Simcox, who once served as publisher of the Tombstone Tumbleweed newspaper, went on to briefly enter Arizona's 2010 U.S. Senate primary against incumbent John McCain but dropped out of the race. His name didn't appear on the ballot.
In the criminal case, prosecutors had proposed making attorneys who serve as legal advisers to Simcox pose questions to the girls, saying the two victims' rights will be violated if the former Minuteman leader can control them during their testimony.
"The child has to respond to her perpetrator," prosecutor Keli Luther said.
Simcox argued he has a right to confront his accusers and promised he wasn't going to try to manipulate the girls. "It's about my respect for the courtroom and respect for the process," he said.
Padilla noted that prosecutors didn't provide any witnesses at Wednesday hearing to back up their claim that the girls would be traumatized by answering questions from Simcox.
The judge also pointed out a letter from the mother of one of the girls in which she worried that letting Simcox question her daughter will set back their attempts at healing.
But Padilla also said the parent isn't qualified to make that assessment. The judge said it wasn't clear whether the mother was referring to past trauma the girl had allegedly suffered at Simcox's hands or future trauma she may suffer by answering his questions at trial.
Prosecutors plan to ask an appeals court to put the case on hold while they litigate the issue of whether Simcox can question the girls.
Like us on Facebook
Follow us on Twitter & Instagram