Militants reportedly kill 14 in Baghdad brothel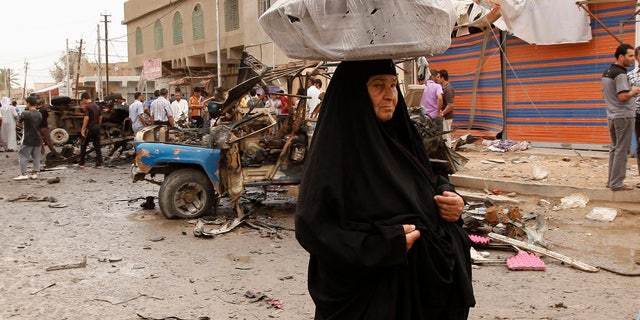 BAGHDAD – Militants broke into a brothel in Baghdad Wednesday, reportedly killing 14 -- the latest attack after a weeklong uptick in violence that has resulted in nearly 300 deaths across the country.
Militants reportedly burst into the brothel in Baghdad's eastern Zayona neighborhood armed with pistols fitted with silencers, according to a police officer. Ten women and four men were killed in the attack, according to the Associated Press.
Police said the attack appeared to be based on religious reasons.
Nearly 300 people have been killed in militant attacks recently across the country, prompting Iraq's prime minister to order a shake-up of his military command.
The shake-up will include commanders of divisions and operations, said Iraqi government spokesman Ali al-Moussawi.
It indicates the depth of Prime Minister Nouri al-Maliki's dissatisfaction with the military for failing to keep the peace in the country, which is instead hurtling downhill toward the brink of sectarian civil war. As premier, al-Maliki is the commander in chief of the armed forces.
The military shake-up follows the surge of car bombs and shootings that have shaken many Iraqi cities over the past week, killing at least 279 people and further raising tensions between Sunnis and the Shiite-led government. The escalation echoes the carnage of Iraq's worst sectarian violence in 2006 and 2007.
The Associated Press contributed to this report.