Migrant 'caravan' begins to splinter, 'disperse' after Trump raises alarm
The caravan of roughly 1,000 Central Americans moving toward the United States appeared to be splintering into smaller groups and "disperse" as of Wednesday, after drawing the ire of President Trump and capturing the attention of the nation.
The large group has been camped out in the town of Matias Romero in the southern part of Mexico since the weekend, after starting a trek from the Guatemala-Mexico border on March 25. It reached a peak of about 1,500 but a spokesperson for the advocacy group Pueblo Sin Fronteras – which organized the caravan and sought to draw attention to the rights of migrants – told Reuters that many people had broken off and were continuing the route on their own.
"Now they're separating these groups," Ellis Garcia told Reuters. "I don't know what's the deal, we have no answers."
As the caravan began to attract growing attention in the U.S., Mexico began cracking down on the group. The Mexican government said in a statement late Tuesday that its immigration policy "is not subject to pressure," but noted the caravan "began to disperse by decision of the participants." It said 465 people had asked for transit visas and 230 had gotten them, and another 168 were likely to get some sort of visa to stay in Mexico.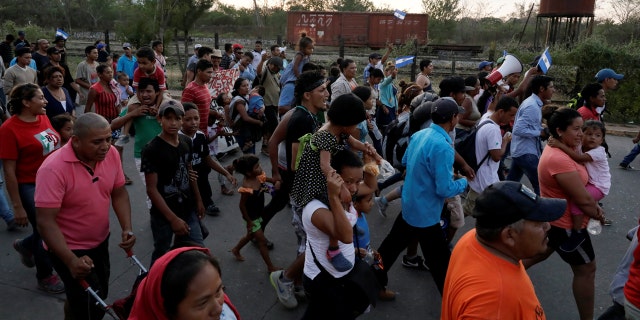 Officials previously said 400 people in the caravan to be sent back to their home countries. That prompted the caravan to break apart, organizers said.
An estimated 300 people split from the larger caravan on Monday, while advocacy groups told the news agency dozens of other people split off to the eastern state of Veracuz only to be met by Mexican immigration officials and police.
Some people were given documents that gives them 20 days to transit the country on their way to the U.S. border with the stated goal of applying for asylum, according to The Associated Press. Others received papers in a first step toward a humanitarian Mexican residency visa, especially for the more vulnerable, or for asylum in Mexico.
TRUMP SAYS THE MILITARY WILL SECURE THE SOUTHERN BORDER UNTIL WALL CAN BE BUILT
"What was agreed with the Mexican state, what is being agreed with the Mexican state, is to legalize those people who are vulnerable, which is the majority of migrants," Irineo Mujica, a coordinator of the caravan, told Reuters. "And we are looking out for their interests, with exit routes, some people are more vulnerable, humanitarian visas or any other type of document so they can cross through the country in the best way possible."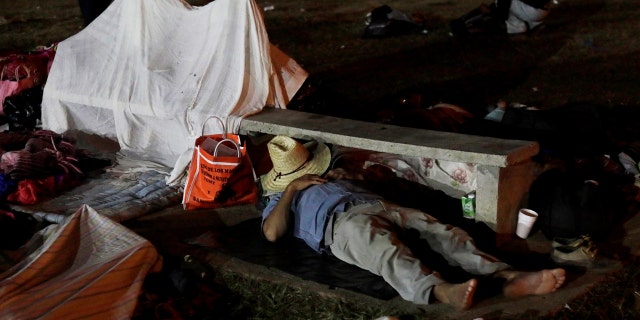 Mayra Zepeda, 38, of Honduras, told the AP that once she gets documents to cross Mexico, she and her husband will continue their journey toward the border city of Tijuana. She said they hope to find better paying jobs there and aren't planning to try to cross into the U.S.
She and her family stopped in the Mexican town of Tapachula at the Guatemala border for three months and she worked in a restaurant. When the caravan came together there, they saw it as a good opportunity to make a move with safety in numbers.
"Honestly, I want to be Mexican," Zepeda said. "We're not going to cross. We're just going to stay here."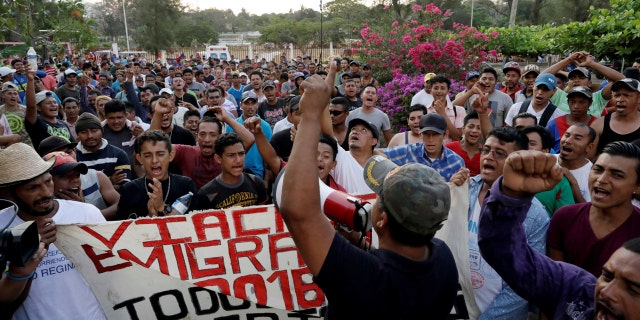 But while some plan to stay in Mexico, others plan to continue on their journey to reach the U.S.
"Our destination is to reach the United States, to support those who remain (in Honduras)," Mirna Hernandez told Reuters. "Not long ago my brother was killed, he was killed cruelly. Doing this for him and his family, that is why we are fighting to go there."
CARAVAN PARTICIPANTS GET HELP FROM WITHIN MEXICO, AMID EFFORTS TO DISBAND GROUP AND PRESSURE FROM TRUMP
The caravan is an annual, symbolic event held around Easter each year to raise awareness about the plight of migrants and has never left southern Mexico, though some participants then continue north on their own. Mujica told the AP the group "will try to find a better way of doing our caravans" in coming years.
"We didn't anticipate, or want, a caravan of this size," he said.
While illegal border crossings slowed after Trump's election, border agents told Fox News that there is a daily informal caravan that has kept border apprehensions increasing in the months since, as word spread that nothing has changed along the border.
On Tuesday, Trump announced he would deploy the National Guard to protect the border until a wall can be built. Over the past 12 years, presidents have twice sent National Guard troops to the border to bolster security and assist with surveillance and other support.
Fox News' William Lajeunesse and The Associated Press contributed to this report.