Miami police identify man wanted in connection to stolen 'Naked Trump' statue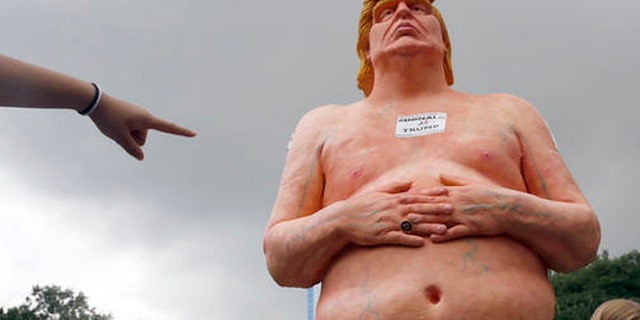 NEWYou can now listen to Fox News articles!
MIAMI – The Miami Police have identified a man wanted in connection to the theft of the "Naked Trump" statue in Wynwood, early Thursday morning.
Police said they want to talk to 36-year-old Pedro Alejandro Rodriguez about the overnight grand theft. Rodriguez is described as a white male who was last seen at 120 San Souci Drive in Coral Gables. Police said the vehicle used in the crime is a 2013, gray, Ford F-150 truck, with the Florida license plate of CMW-M58.
The controversial naked statue of Donald Trump in Miami's Wynwood neighborhood was stolen early Thursday morning, according to a security guard.
The statue was on display along Northwest Second Avenue and 23rd Street for several days before it was stolen, said authorities.
Police said they responded to the call from security guards around 3 a.m. The guards said they were patrolling the area when they saw a group of men load the statue into a pickup truck and take off.
7News spoke with a witness, Angel Pino, who said he tried to yell at the men to stop, but they kept going. "I happened to be skateboarding over there on the other side, and I just seen the guys sneaking up, and he was already by the Donald Trump," said Pino. "He just pulled it and ran, so I just ran after him and said 'Stop! Stop!' And then he just jumped, went in the truck and left, but before he left, I took that snap picture. It was perfect."
Pino was able to get a picture of the pickup truck's tag before it drove away. "He just didn't want to stop, so I took the picture," said Pino. "I'm not gonna like try to interfere or try to like get shot or anything like that over a Donald Trump."
This is the second location the statue has been displayed at. It was originally located atop a former RC Cola plant-turned event space, right in the heart of the Wynwood Arts District. However, police said, it needed to be taken down because it was distracting drivers along Interstate 95.
These Trump statues have popped up in cities all around the country. It was a similar story in New Jersey, where the Trump statue there was stolen over the weekend. It was displayed atop a warehouse and greeted drivers along a highway as they made their way into New York City.
In that case surveillance video helped captured the thief, who spent three and a half hours on the roof of the warehouse trying to get it down.
It is still unclear if there is any surveillance video from the scene in Wynwood.
An investigation is underway.
For more stories go to wsvn.com